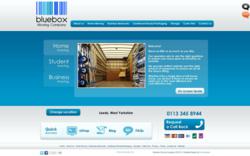 "The development cycle for us here is Discovery, Development, Testing. This we continue to do in order to involve over time to more and more suit our customers requirements. " Clayton West - Operations Manager.
(PRWEB UK) 11 April 2013
Bluebox Moving Company are a small company only two years old, who have a big idea on how to plan and execute a move in a more organised and innovative way.
Information is power. Well, useful information is. Their main goal is to provide website users with useful information and tools as and when they need them. The process allows for accurate costing information to be made available to a customer on request at any time of day.
Bluebox is the first moving company in the UK to provide online quotes for moving with such accuracy when considering the various kinds and quantity of furniture and household goods someone would need to move. Working out of the 'Leeds West Yorkshire' and 'Greater Manchester' areas of the country, they offer moving services to anywhere in the UK.
They have named the quote the 'Instant On-Screen Quote'. With them you get just that. The environment allows for consistency, transparency and aims to provide an accurate competitive quote. With the quote breakdown, the idea is you can see what you are paying for.
For customers that want to get accurate quotes straight away, the online process allows for a customer to give thought to the items they would want moved and to disregard items that will not be taken to the new property. This helps cut down the extra cost of moving things that really don't need to be moved.
Bluebox realise that some customers need more help than others and that where a customer requires less service, less service should be paid for. They have introduced the Destination Add-on Fee. As an option for home-movers, there is a higher and a lower quote automatically generated. In their words:
"What is the Destination Add-On?"
"As Standard (with you paying the Destination Add-On Fee), we will move you into the destination property and will leave all your items in the best places possible in all necessary rooms. You can opt-out of paying the Destination Add-On (To reduce costs). We will move all the items into one room/area, safely in the destination property, not obstructing any access ways. Here you could save on the total cost of moving. We term this option the Destination Add-On Option."
The Online Quote itself is presented in an easy to digest fashion. E-mail is sent out to a user when a 'Move Inventory' is created and a quote has been displayed.
Where possible Bluebox also generates information on any additional possible charges and provides information on why and when extra charges maybe applicable. Again in their own words:
"What is the Access Charge?"
"We sometimes may feel it necessary to add the Access Charge in an instance where an excess of work than under normal circumstances is to be or has been carried out. Likewise In a case where unexpected circumstances arise that were not mentioned or discovered at the time of quoting by either party. i.e. Property access issues, work delays."
Taking a closer look at the website, you soon realise that an eShop provides boxes and packaging that might be required for a move. All materials from the eShop are made available for Next Working Day Delivery if ordered on a day by a certain time.
Clayton West (Operations Manager), goes on to say, "We have working partnerships with a few other really capable companies in our industry. We all have the aim of doing more for our customers and realise that we all have more success working together."