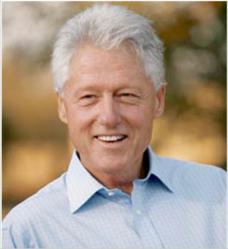 "Temple Sinai of Roslyn has a strong commitment to bringing our congregation programs that enrich their lives and are proud of the opportunity to add President Clinton to that impressive list of world leaders" said David Schwartz, Temple Sinai President
(PRWEB) April 12, 2013
Temple Sinai of Roslyn announced it will welcome President Bill Clinton, 42nd President of the United States and Founder of the William J. Clinton Foundation, on Tuesday, April 16, 2013 when he will deliver a speech titled "Embracing Our Common Humanity."
President Clinton's appearance at Temple Sinai of Roslyn is part of their ongoing Distinguished Lecture Series, which has included esteemed speakers such as author and Nobel Peace Prize Laureate, Elie Wiesel; former Prime Ministers of Israel, Shimon Perez and Ehud Barak; and former United States Secretary of State, Dr. Henry Kissinger. The goal of Temple Sinai's Distinguished Lecture Series is to present the congregation and the community with the most inspiring and important speakers of our time.
"Temple Sinai of Roslyn has a strong commitment to bringing our congregation programs that enrich their lives and are proud to have the unique opportunity to add President Clinton to the impressive list of monumental world leaders that have previously graced our bimah," said David Schwartz, President of Temple Sinai.
For more information about President Clinton's visit, for ticket information, or for further information on any of Temple Sinai's other services or our religious or nursery schools, please contact Ethel Liebeskind at eliebeskind(at)mysinai(dot)org/516-621-6800 or visit our website at http://www.mysinai.org.
About Temple Sinai of Roslyn
Temple Sinai of Roslyn is a reform congregation committed to perpetuating Judaism and meaningful Jewish expression with religious services, as well as adult, youth and teen programs, and religious and nursery schools that enrich the lives of our membership and the community at large. Temple Sinai of Roslyn is located at 425 Roslyn Road, Roslyn Heights, New York.
Contact:
Ethel Liebeskind
516-621-6800