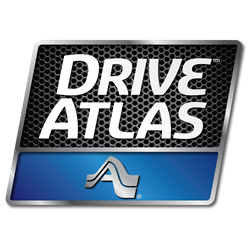 Evansville, IN (PRWEB) April 10, 2013
With capacity continuing to grow, DriveAtlas™ announces opportunities for 148 additional owner operators in 2013 through the Shuttle Fleet, as well as both the Commercial Truckload and Special Products divisions. The majority of these direct fleet positions are through the Shuttle Fleet, which is specific to the transportation of loaded and empty trailers.
Atlas Van Lines' Shuttle Fleet drivers are strictly responsible for drop and hook trailer delivery service and are paid by the mile. Drivers receive an average of $1.52 per mile, which includes a fuel surcharge and payment on loaded and empty miles. Benefits include a discounted fuel program, weekly pay, free truck washes, optional health, dental and life insurance coverage, fuel-saving light loads and more. Drivers signing on by May 1 will also receive a $5,000 sign-on bonus. Bonuses will be paid in $1,000 installments starting at 30, 90 and 180 days from the date of lease with Atlas, with an additional $2,000 paid out on their one-year anniversary.
"We remain focused on delivering ways for our drivers to prosper," said Jack Griffin, president and COO of Atlas Van Lines. "Through highly competitive pay and a company culture that recognizes the importance of treating our drivers with the respect they deserve, DriveAtlas is providing opportunities for owner operators that will lead to long-term relationships."
Over-the-road driving jobs with Atlas average 1,250 miles per run and about 2,500 miles per week. However, with the peak summer season approaching, new drivers in the Shuttle Fleet can expect above-average miles per week. Owner operators in this division also have full home-time flexibility in which they choose when they return home and the duration of their stay.
"One thing that separates these positions from many other opportunities is the loads transported by Atlas' direct fleet average only 15,000 to 25,000 pounds," said Griffin. "This is much lighter and easier on both the gas tank and an owner operator's tractor than the natural resources, raw materials and food shipments many drivers in the transportation industry are accustomed to hauling."
DriveAtlas also offers extra benefits to those referring potential drivers. For each new driver referred, qualified and signed on with Atlas, $500 will be paid out to the person who referred the driver. Referrals should be made to the Atlas recruiting department by calling (800) 525-3029 or emailing jobs(at)driveatlas(dot)com.
For more information on Atlas driving jobs, please visit http://www.driveatlas.com.
About Atlas Van Lines
Atlas Van Lines, a national moving company, is the largest subsidiary of Atlas World Group, an Evansville, Ind.-based company. Atlas World Group companies employ nearly 700 people throughout North America. Nearly 500 Atlas interstate moving agents in the United States and Canada specialize in corporate relocation, household movers and in the transportation of high-value items such as electronics, fine art, store fixtures and furniture. For more information, visit http://www.atlasvanlines.com.