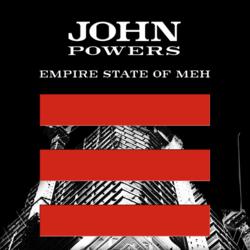 Wish I worked on Wall Street, back like in the '90s, instead I'm out for Occupy, sleeping in Zuccotti.
New York, NY (PRWEB) April 13, 2013
Anyone who has ever lived in New York City will enjoy this parody of Jay-Z and Alicia Keys' hit song Empire State of Mind because unless you are as wealthy as Jay-Z or Alicia Keys the city can be an Empire State of Meh. Whether you are a hipster in Brooklyn, a sports fan in the Bronx, an artist in Astoria, or a trader on Wall Street you will dig this parody of Empire State of Mind. And if you've visited New York City this song is a look into what they didn't show you on the Big Apple double-decker tourist bus.
This song boasts references to all five boroughs (Manhattan, Queens, Brooklyn, the Bronx and Staten Island), as well as Gotham's most beloved professional sports teams (the Mets, Yankees, and Giants). Empire State of Meh rips on Mayor Michael Bloomberg's controversial attempt at a soda ban as well as his pro-breast milk policies. The notorious Metropolitan Transportation Authority (MTA) is not safe either. This song describes waiting for a subway, ridiculous taxi prices, and killing time on the NYC bus system.
The Jersey Shore is also prime fodder and no song about the tri-state area would be complete without a Snooki reference. Anyone who has been to Times Square can relate to being overwhelmed by tourists, and walking past vendors selling street signs and caricatures. As a local New Yorker currently living in Gramercy, comedian John Powers has no problem calling the Statue of Liberty a tourist trap, reinforcing that "the rent is too damn high," and alerting people of the roach and rat infestations around the city. He also pays homage to Sandy and to those affected by the storm on the tri-state coastline.
Vocalist Meghan Estes provides the voice for Alicia Keys on the track and comedienne Maryssa Smith was recruited to portray Ms. Keys in the music video. The video was shot using a greenscreen super-imposed over shots around New York City. John and Maryssa are found on a bus, on the steps in Times Square, and down in the subway tracks. Have a listen, take a look, and share in some inside jokes about the greatest city in the world.