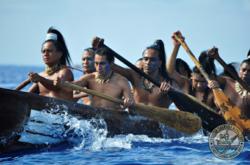 Sacred Mayan Journey 2013 in Experiencias Xcaret
Cancún, Quintana Roo, México. (PRWEB) April 17, 2013
CANCÚN, RIVIERA MAYA; QUINTANA ROO- From May 23 to 25th the Sacred Mayan Journey 2013 will take place for its seventh consecutive year with the participation of 334 oarsmen that will cross the Caribbean Sea to attend the oracle of the goddess Ixchel in Cozumel, just as the ancient Mayans did more than 500 years ago.
The main theme of this year's celebration is sharing the maritime knowledge and values from the Mayan tradition to the new generations that form part of the New Era worldview according to the pre-Hispanic cosmovision, said Leticia Aguerrebere, Director of Art and Culture at Experiencias Xcaret.
In addition, this year the route will be modified to begin the journey in XelHa, ancient Mayan port that was used as a venue for trade. With this change, the route will increase to 79 kilometers, when in 2012 the journey back and forth together was 60 kilometers of navigation.
After departing from XelHa aboard 33 canoes, the oarsmen will cross the sea for several hours to reach land in Cozumel and arrive to Chankanaab Park. The concept alluding to the new generations taking the responsibility of continuing their tradition is present in the contingent of canoeists. This year, 60 percent of the oarsman will make the trip for the first time, while the remaining 40 percent are oarsmen who have crossed one or more times.
The oarsmen will row an average of 48 kilometers on the route XelHa-Chankanaab in Cozumel and 31 kilometers in the journey back Chankanaab-Xcaret.
In this Sacred Mayan Journey, there will be 153 women and 181 men participating. Although most of the oarsmen are locals, there will also be oarsmen from several nationalities including Germany, Argentina, Canada, Colombia, Spain, United States, France, Holland, England, Puerto Rico, Venezuela, Thailand and Belize.
The oarsmen complete a strict training program 6 months prior to the Sacred Mayan Journey. The canoes are divided by hearquartes in Cancun, XelHa, Xcaret and Cozumel. To complete the program, there will be participating more than 600 artitsts and support staff to aid in the ritual ceremonies as well as the dances, musical interpretations, and volunteers.
Activities will begin in Xcaret (formerly Pole) on May 23 with the representaiton of a pre-Hispanic market, the arrival of the canoes and its preparation for the trip. On May 24, with the first rays of the sun, the oarsmen will make their journey from XelHa for several hours to make landfall in Chankanaab, Cozumel (formerly Cuzamil) and start the ceremony honoring the goddess Ixchel. Finally, the oarsmen will row back on the 25th and arrive to Xcaret to conclude the ritual.
Now in its seventh year, this pre-Hispanic tradition, the Sacred Mayan Journe at Xcaret has become a praised event by the community who looks forward with great anticipation as its ritual elements, historical scope, human and existential identity are a factor in contemporary life.
For further information:
Iliana Rodríguez
Chief Communications Officer
Experiencias Xcaret
irodriguez(at)experienciasxcaret(dot)com(dot)mx
Cel: 044 (998) 845-5644