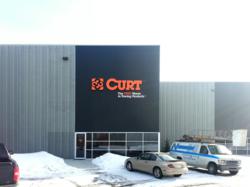 Eau Claire, WI (PRWEB) April 12, 2013
CURT Manufacturing, a leading manufacturer and marketer of top quality towing products, recently began operations in Edmonton, Alberta. This is the FIRST and only factory-operated, full-line trailer hitch and towing accessories distribution center in Alberta. For CURT, it is the second distribution center serving Canada.
The new facility is 25,000 square feet total with about 1,500 square feet in office space. There are four bay doors and a customer pickup ramp. The facility utilizes a state-of-the-art RF (radio frequency) tracking system, which ensures fast and accurate order selection. It also utilizes Nordson hot melt adhesive and instapak® foam packaging which ensures that boxed CURT hitches are tightly packed and will arrive to the customer undamaged. Click here to view a video on CURT's Distribution process: http://curtmfg.com/lp/8
"CURT is excited to have a company-operated warehouse to service our distributors and dealers in western Canada," says Shane McNallie, National Accounts Manager at CURT. "This facility will greatly increase the service levels we offer our customers in Alberta, Saskatchewan, and Manitoba." An open house was held in early March at the new facility located at 12804 184th St. N.W in Edmonton, Alberta. Brian Cheyne is the warehouse manager at the Edmonton Distribution Center.
About CURT Manufacturing: CURT is a leading manufacturer and marketer of top quality towing products. The company offers American-made, custom fit receiver hitches and wiring harnesses for nearly any vehicle on the road. They also market a broad range of trailer hitches, towing systems and related accessories. CURT is 'The First Name in Towing Products' for automobile and truck hitches, as well as RV, gooseneck and commercial towing systems. Products are marketed through retailers, distributors, installers, and e-tailers across the U.S. and Canada. CURT employs hundreds of associates, primarily at their manufacturing facility and corporate headquarters which is located in Eau Claire, Wisconsin. CURT operates 11 regional warehouses, each carrying over 2,500 items and has been twice named a Wisconsin 'Manufacturer of the Year'.
For additional information on CURT products, click here http://curtmfg.com/lp/8 or call toll free at 1-877-CURTMFG (287-8634)
Edmonton Distribution Center
12804 184th Street N.W.
Edmonton, Alberta T5V1T4
1-877-CURTMFG (287-8634)