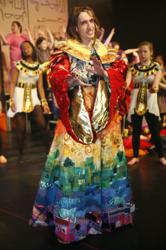 Cast member Havering College student Shelly Naor said: "This is the best night of my life."
Hornchurch, Greater London (PRWEB UK) 12 April 2013
Dreams have been realised after more than 200 young people took part in a smash hit production of Joseph and the Amazing Technicolor Dreamcoat staged by Havering College of Further and Higher Education (http://www.havering-college.ac.uk) at a London West End theatre.
The college in Greater London was granted permission to perform the Andrew Lloyd Webber musical at Her Majesty's Theatre in Haymarket, London, for one night only on Sunday, April 7th.
The show was an inclusive community project, involving schools and learning organisations from the London Borough of Havering and beyond.
A year of planning and rehearsals under the leadership of director/producer Peter Dayson culminated in an amazing spectacular performed to a packed house of more than 1,300 people.
Cast members ranged from the age of six upwards and included performers with learning or physical challenges.
Among them was Havering College student Shelly Naor who gave her own personal thanks to college principal Maria Thompson after the finale.
Shelley, aged 23, a Foundation Skills student based at the Havering College Quarles Campus in Harold Hill, summarised it for all by saying, "This is the best night of my life."
Participating schools and colleges included Ardleigh Green Infant and Junior Schools, Bower Park School, Emerson Park School, Upminster Infant School, Corbets Tey School and Havering Sixth Form College.
The Biblical saga was brought to life with songs in a variety of musical styles including ballads, rock and roll and disco.
Elvis impersonator Dean Lee Vegas – the son of Havering College finance assistant Sue Fenton - played Pharaoh.
The principal leads included Adam Wheeler as Joseph. The part of the Narrator was sung by T.J. Bain.
The college has a proud history of award-winning productions and holds Artsmark Gold status from Arts Council England in recognition of its commitment to, and excellence in, arts education.
Joseph is one of the most popular musicals of all time and the show was a natural follow-up to the success of last year's community show Inspiration which was staged at the London Palladium before enjoying a re-run on the Olympic Park Bandstand during the Olympics and Paralympics.
Peter Dayson, who lectures in Music at Havering College, said, "It was the most wonderful opportunity for the students. This year has taken a year out of our lives in terms of planning the structure."
"I would like to take this opportunity to thank our colleagues in the industry who come every year for supporting us,including Disney, Apple Records, Universal, and Sony – it means the world to therm.
"Thank you to all the schools that took part, all the carers and staff who have attended rehearsals, particularly mums and dads."
If you want a career in the Performing Arts industry, call the Havering College Threshold Services team on 01708 462801 or email information(at)havering-college(dot)ac.uk.