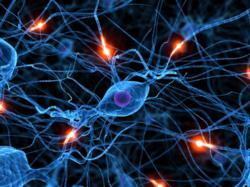 MANHASSET, NY (PRWEB) April 10, 2013
The Feinstein Institute for Medical Research today unveiled a collaboration with the University of Pennsylvania and Massachusetts Institute of Technology (MIT) being spearheaded by GlaxoSmithKline (GSK), which aims to discover medicines that use electrical impulses to regulate the body's organs and functions. This initiative is discussed in the April issue of Nature.
"This is a powerful collaboration between leaders in the field of medical device development," said Kevin J. Tracey, MD, president of the Feinstein Institute. "We are focused on developing implantable electrical devices as treatments for disease. It is likely that miniaturized, computerized technologies that target neurons will someday replace existing drugs – this has the potential to be revolutionize how we think about helping patients."
Nearly all organs and functions in the body are regulated through circuits of neurons that communicate through electrical impulses. There already exist devices that use electrical impulses to treat disease (i.e., pacemakers, defibrillators, deep-brain stimulation), but these devices do not target specific cells in the body. Researchers now believe it is possible to create devices that control action potentials in individual neurons, a critical step in developing technologies to use neural circuits to control specific cells. It may be possible to intervene in a broad spectrum of diseases, like inflammatory and autoimmune diseases, because these conditions can be controlled by neurons.
The collaboration between the Feinstein Institute, GSK, MIT and University of Pennsylvania will dedicate resources with the aim to discover electrical impulse medical treatment (electroceuticals). Specifically, the Feinstein Institute will continue research on the neural codes that underlie diseases of immunity and inflammation to identify intervention points and conduct exploratory clinical work. Initial results have already shown that it is possible to manipulate neural signals specific to different inflammatory mediators in standard laboratory models.
About The Feinstein Institute for Medical Research
Headquartered in Manhasset, NY, The Feinstein Institute for Medical Research is home to international scientific leaders in many areas including Parkinson's disease, Alzheimer's disease, psychiatric disorders, rheumatoid arthritis, lupus, sepsis, human genetics, pulmonary hypertension, leukemia, neuroimmunology, and medicinal chemistry. The Feinstein Institute, part of the North Shore-LIJ Health System, ranks in the top 5th percentile of all National Institutes of Health grants awarded to research centers. For more information visit http://www.FeinsteinInstitute.org