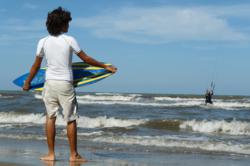 ItaliaRail is excited to offer our customers new high-speed train service between these two great cities, with stops on the beach along the way
Newton, MA (PRWEB) April 18, 2013
Trenitalia's high-speed Frecciarossa train has added a new route. Two daily trains now make the journey between Milan and Ancona, the seaside port town in central Italy where travelers can catch ferries to Greece, Turkey and Croatia.
Along the way, there are stops in two beautiful beach towns on Italy's dreamy Adriatic coast:
Rimini - one of the most popular beach resorts in Italy with over 10 miles of sandy beaches, a slew of good restaurants and a booming nightlife. Rimini is also renowned for being the birthplace of Italian film director Federico Fellini.
Pesaro - also a beautiful seaside resort that boasts an ancient pedestrian section and a lively beachfront promenade. Casa Rossini, one of the town's major attractions and the birthplace of the celebrated Italian opera composer Giacchino Rossini, is not to be missed.
"ItaliaRail is excited to offer our customers Trenitalia's new high-speed train service between these two great cities, with stops on the beach along the way," said Michael Harkness, Vice President and General Manager for ItaliaRail. " With the exceptional fares - this is a great value add."
The high-speed Frecciarossa offers four comfortable seating options: Executive, Business, Premium and Standard. The trains are air conditioned, have wi-fi and power sockets at seats, and feature a restaurant/café car for refreshments as well as seated dining.
A morning train leaves Ancona for Milan Centrale station, with an evening train departing from Milan to Ancona. The total travel time is about 3 hours and super economy fares start as low as $39 per person. For more information go to http://www.italiarail.com.
About ItaliaRail
ItaliaRail is the expert on Italy train tickets and passes. In cooperation with Trenitalia, Italy's national railway, ItaliaRail provides a direct connection to Trenitalia's reservation system allowing rail travelers access to the most routes at the best prices. Travelers are able to book in multiple currencies and knowledgeable customer service agents are available to answer questions and give advice on train travel through Italy. ItaliaRail was launched in 2005 and is a division of International Rail, LLC.