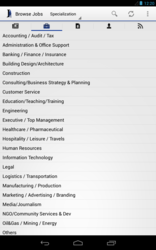 Lagos, Nigeria (PRWEB) April 12, 2013
The Jobs website with the largest catalogue of Jobs in Nigeria, Jobberman, has launched its Android App. The Android app which makes it easy for people to browse through; search and apply for jobs; update their Jobberman profile and do all they can without using a PC has already gained momentum in the number downloads it has.
The Jobberman Android App which was launched on the 8th of April 2013 is already in use and has proven to be a successful application; having great features requiring little or no need to visit the website on a PC. The features include the Browse Jobs, Latest Jobs, and Applied Jobs tabs. It also has an inbuilt RSS feed tab syncing career advice unto the app coupled with its sleek interface for easy navigation.
With the Jobberman Android App, users can get fresh and constant update on the latest jobs on the website just as they are posted. This intuitive and well-designed app makes it easy for users to keep an eye on the jobs they want, as they can either search by Industry or by Career Specialization.
Prior to the Android Launch, Jobberman launched its Blackberry App keeping Blackberry users abreast with the latest jobs which has gone a long way in satisfying a lot of users' search needs.
The Jobberman Android App can be downloaded on: goo.gl/7KtOb
Opeyemi Awoyemi, the CoFounder and SVP of Products at Jobberman, stated that Jobberman is a lifestyle company using technology and harnessing the power of the internet to bridge the gap between job seekers and job opportunities in Nigeria.
Jobberman is the largest Jobs board with the highest number of jobs in Nigeria. Its headquarters is located in Lekki, Lagos.