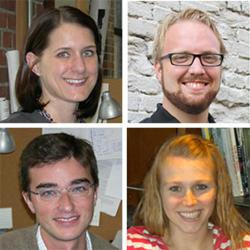 Thank you for continued commitment to Confluence and the landscape architecture profession.
Des Moines, Iowa (PRWEB) April 12, 2013
In recent months, several staff members have passed the Landscape Architect Registration Examination (L.A.R.E.). By completing the licensure process, our staff has demonstrated their knowledge, skills and abilities to provide landscape architectural services and ensure the health, safety and welfare of the public. These employees continue to show their commitment to Confluence and the profession of landscape architecture.
Founded in 1998, Confluence is a professional consulting firm comprised of landscape architects and planners. The firm's work includes a wide range of public, educational, institutional, and private sector projects. Confluence has 18 licensed landscape architects and carries licenses in Iowa, Illinois, South Dakota, North Dakota, Nebraska, Missouri, Kansas, Wyoming, Wisconsin and Minnesota.
For more information please contact Stacey Williams at swilliams(at)thinkconfluence(dot)com.