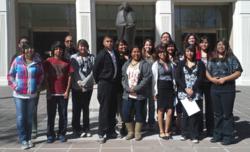 (PRWEB) April 11, 2013
Anne Frank wrote, "Where there's hope, there's life. It fills us with fresh courage and makes us strong again."
This year, Futures for Children (FFC) provided several American Indian students with the opportunity to explore a new way to achieve hope, courage, and strength in their lives and in their communities. FFC received a grant from the W.K. Kellogg Foundation for a project called Native Americans for Life. In implementing that project, the students learned about promoting change in their communities through the political process.
During February, FFC staff held several training sessions in which students and their project coaches from Santa Fe Indian School, Thoreau High School and the Native American Community Academy learned about the legislative process and how a bill becomes a law.
Then, in March, FFC staff accompanied the students to the New Mexico Legislative Session at the Round House in Santa Fe where they witnessed the legislative process in action. They focused on Senate bill 447 sponsored by Senator Benny Shendo, a Jemez Pueblo tribal member. The bill included a mandate to create a Native American Suicide Prevention Advisory Council consisting of eleven voting members from the tribes and pueblos in New Mexico. Those on the Advisory Council would work with others to provide culturally appropriate suicide prevention, intervention, and post-event assistance statewide for Native American individuals, families, tribes, nations, and pueblos.
The legislative process fascinated the students; some even kept a log to track the ongoing status of the bill. Students were also able to tour the capital and spend time with several New Mexico legislators. One group enjoyed the additional experience of being introduced on the Senate floor by Senator Shendo.
FFC's vision statement affirms, "We partner with supporters to encourage American Indian students to develop into young leaders who find their voice and take action, while taking pride in their cultural identities." Learning to use the legislative process to "find their voice and take action" is one more tool students have been given thanks to the W.K. Kellogg Foundation and FFC supporters. Their efforts provide American Indian students with hope for the future.