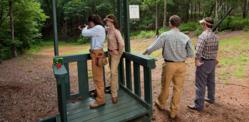 Norwood, Nc (PRWEB) April 12, 2013
Sporting clays is a form of clay pigeon shooting, often described as "golf with a shotgun" because the typical course setup, involving 10 to 15 different shooting stations laid out over a natural terrain.
Registered NSCA shoots are just some of the many shooting events held at The Fork Farm year round.
Specifically, for this registered spring shoot, The Fork's 14- station Large Gauge (PeeDee Course) of 100 targets, will be the main attraction!
Shooters may choose to partake in the other available courses that day as well:
The XC (Cross Country) Course of 100 targets
And The Rocky Sub Gauge Course of 7 stations. (20, 28, 410 gauge)
A Five- Stand warm up and Back To Class Option will also be available for a small fee.
Registration is encouraged through winscore at WinScoreOnline, but also can be found on The Fork Farm website on the main page.
NOTE**
The Sporting Clay Course is open to the public year round.
Shooting reservations can be made by calling 704-474-4052 ext. 221.
Hours of Operation:
Monday - Saturday: 8am - last shooter on course at 3pm (Winter season)
Sunday: 9am - last shooter on course at 3pm (Winter Season)