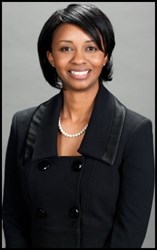 "The reward of helping others is priceless," said Rouse. "I was grateful to see that a couple hours of my evening could make such a difference."
Durham, NC (PRWEB) April 11, 2013
When members of the community gathered at Helping Hand Mission in Raleigh, on March 27, 2013, to find answers to their pressing legal questions, James Scott Farrin Attorney, Crystal Rouse, was there to provide the needed information.
Rouse, a Social Security Disability lawyer, volunteered with four other local attorneys on Helping Hand's annual Pro Bono Panel. During the question and answer event, any members of the community can pose questions about general legal processes and proceedings to the panel.
According to organizer Elleveve Donahue, Rouse's experience as a former examiner with the North Carolina Disability Determination Services, made her involvement especially valuable.
"The fact that Crystal has seen Social Security proceedings from both sides, makes her an invaluable resource to the community," said Donahue. "And the donation of her time to such a worthy cause speaks highly of her character."
Rouse found the experience both "humbling" and "energizing". She said the crowd was so large, there was standing room only for the five-attorney panel, and that even after the event closed, many lingered to ask her questions about their personal Social Security Disability concerns.
"The reward of helping others is priceless," said Rouse. "I was grateful to see that a couple hours of my evening could make such a difference."
Rouse received her J.D. from the North Carolina Central University School of Law in 2008 and her B.A. magna cum laude, in English from Barton College in 2000. Prior to obtaining her law degree, she worked for eight years as a Social Security Disability Determination Services Examiner. In addition to Social Security law, Ms. Rouse has practiced in the areas of debtor/creditor mediation, domestic violence and employment securities law.
ABOUT HELPING HANDS MISSION
Helping Hand Mission is based in Raleigh, NC and provides individuals, and families, in need with: clothing, food, furniture, shelter, educational opportunities and other resources. The mission began in 1972 as an operation to provide winter clothing to homeless people in the Triangle area. Since its opening, the mission has operated on a donation-basis of reusable items and support.
ABOUT THE FIRM
The Law Offices of James Scott Farrin is headquartered in the American Tobacco Historic District, adjacent to the Durham Bulls Athletic Park, in Durham, North Carolina, with 12 additional offices statewide in Charlotte, Fayetteville, Greensboro, Greenville, Goldsboro, Henderson, New Bern, Raleigh, Roanoke Rapids, Rocky Mount, Sanford and Wilson. The firm's 30 attorneys focus on the following practice areas: Personal Injury, Workers' Compensation, Social Security Disability, Eminent Domain, Intellectual Property, Civil Rights, Mass Torts and Products Liability. Three of the attorneys are North Carolina Board Certified Specialists in Workers' Compensation Law and one is a North Carolina Board Certified Specialist in Social Security Disability Law. The Law Offices of James Scott Farrin is involved in the community, including sponsorship of local philanthropic organizations and an active employee matching donation program.
Contact Information:
Eric Sanchez
280 S. Mangum Street, Suite 400
Durham, NC 27701
800-220-7321
http://www.farrin.com
http://www.farrin.com/facebook
http://www.farrin.com/twitter
http://www.farrin.com/youtube