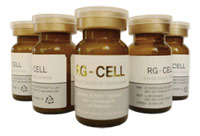 New York, New York (PRWEB) April 11, 2013
This concentrated serum, designed for professional skin care use, is the first in its line of products that uses the highest quality, all natural, scientifically proven ingredients that support a positive and regenerative effect on the condition of human skin. RG-Cell's concentrated serum uses growth factors and other natural essential oils, resins, botanicals and marine extracts which, when combined and applied topically, allow the skin to renew itself by stimulating stem cell release. It's the first product on the market that uses this particular combination of only nature's finest ingredients and solid skin care science to promote this unique stem cell stimulation, growth and repair as its main mechanism of action. RG-Cell contains19 ingredients that clean, hydrate, moisturize, repair and tone the skin giving it a soft touch and a smooth appearance that is noticeable within days of use.
RG-Cell also uses cutting edge, patented, double layered nano-encapsulation technology to ensure the ingredients are delivered into the deepest layers of the skin.
The product retails for $99.99 and can be purchased either through its partners or by visiting the company's website: http://www.rg-cell.com. For more information on RG-Cell or Timeslip Solution's other leading edge line of products, please contact Dean Miller, 631-697-3241 or email info(at)rg-cell(dot)com