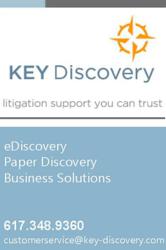 The issue of eDiscovery presents unique challenges that must be addressed by the attorneys involved in a given case.
Boston, MA (PRWEB) April 11, 2013
KEY Discovery, Boston's leading litigation support company, is pleased to announce the hiring of Senior eDiscovery Specialist Jonathan Zschau. Jonathan comes to KEY Discovery with impressive credentials. He is a Massachusetts attorney with extensive experience supporting and managing highly complex eDiscovery projects.
Prior to joining KEY Discovery's eDiscovery team, Jonathan served as a Project Lead and Case Administrator within the eDiscovery Services division of Autonomy, a Hewlett-Packard company. While at Autonomy, Jonathan gained an immense degree of experience managing numerous eDiscovery matters and projects for AM Law 100 firms and Fortune 500 companies. Jonathan is also a savvy blogger and published author who writes about consumer protection issues relating to law and technology.
When asked specifically how he can help Boston attorneys and law firms with their eDiscovery needs Jonathan said, "The issue of eDiscovery presents unique challenges that must be addressed by the attorneys involved in a given case. It's an interdisciplinary problem – requiring efficient collaboration between attorneys, paralegals, technologists, project managers, statisticians, and eDiscovery vendors. Since joining the Massachusetts Bar in 2008, I've had the opportunity to focus on eDiscovery matters both as an attorney and as an eDiscovery project lead. Understanding the complexities of these different roles fosters effective communication, which is a necessary prerequisite to the success of any project. This empowers the litigating attorneys to remain laser focused on representing their clients' interests."
"We at Key Discovery are so pleased to have Jonathan on our eDiscovery Team. He is a solid, skillful addition to this established department and will be a valued resource for our Key Discovery team and our clients. We are fortunate to have such a well versed attorney who shares the client perspective and comprehends the ever changing facets of the eDiscovery process." Tom Washburn, CEO Key Discovery.
To view a list of comprehensive eDiscovery services, please visit http://www.key-discovery.com.
KEY Discovery is Boston's market leader in eDiscovery and litigation support services. They offer a full menu of litigation support services for the Massachusetts legal community.
(617)-348-9360