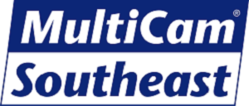 Brady is a valuable addition to our service team and we are excited to have him on board.
Suwanee, Georgia (PRWEB) April 11, 2013
MultiCam Southeast, regional distributor and service provider for MultiCam CNC cutting solutions, is growing its capacity to deliver quality customer service and support by hiring Brady Gibbs. In his new role Mr. Gibbs will provide technical customer service including machine and software installation, training, repair, and maintenance at customer locations throughout the company's five-state territory. Mr. Gibbs will report to Van Clarady, Director of Technical Services, and will spend his first few months in training.
Mr. Gibbs is fairly new to the workforce but joins the company with strong mechanical, electrical, and computer skills. He is a quick learner and eager to get started on a long career with MultiCam Southeast.
"We are committed to providing excellent local service and support for our MultiCam CNC machine customers," said Mark Balloun, president of MultiCam Southeast. "Brady is a valuable addition to our service team and we are excited to have him on board."
About MultiCam Southeast
MultiCam Southeast is an authorized distributor of MultiCam CNC routers, CNC plasma, CNC laser, CNC waterjet, and CNC knife cutting systems, as well as CAD/CAM software, CNC router bits and tooling, plasma consumables, heaters and coolers, training classes, and technical services. MultiCam Southeast serves the woodworking, metal fabrication, plastic fabrication, sign manufacturing, composite, solid surface, and HVAC markets, among others. Based in Suwanee, Georgia, MultiCam Southeast also has a Technology Center in Charlotte, North Carolina. For more information, visit http://www.multicamsoutheast.com.