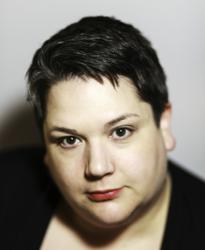 Palmyra, WI (PRWEB) April 11, 2013
Standard Process Inc. announces the recent promotion of its senior graphic designer, Stacy Blint, to the role of creative manager at its corporate headquarters in Palmyra, Wis.
"Since joining Standard Process eight years ago, Stacy has shown a passion for promoting our company's philosophy through her artistic talent, project management skills, and collaboration prowess," says Tammi Geiger, director of marketing for Standard Process.
In her new role as creative manager, Blint, of Muskego, will lead the company's in-house creative team. She will be responsible for managing Standard Process' corporate identity and developing creative solutions to drive brand engagement.
Blint joined Standard Process' in-house creative team in 2005 as a graphic designer and was promoted to senior graphic designer in 2010. Blint received a bachelor's degree from New York City's Pratt Institute, School of Art and Design, and has had award-winning design pieces featured in Graphic Design USA throughout her career at Standard Process.
For more than 80 years, Standard Process has manufactured whole food supplements that provide specific, nutritional support for the body. The company grows many of its ingredients on its own certified organic farm.
For more information about career opportunities at Standard Process, please visit standardprocess.com/Career-Opportunities.
###
About Standard Process Inc.
For more than 80 years, Standard Process, headquartered in Palmyra, Wis., has provided high-quality, nutritional whole food supplements through health care professionals. Standard Process offers more than 300 products through three product lines: Standard Process whole food supplements, Standard Process Veterinary Formulas and MediHerb herbal supplements. The products are available only through health care professionals.
Standard Process is involved in every step of production. The company grows crops on company-owned, organically certified farmland, utilizes state-of-the-art manufacturing processes, and employs the highest quality control standards. Standard Process strictly adheres to the Food and Drug Administration's good manufacturing practice requirements. Through these measures, Standard Process can ensure that its products are of the utmost quality and potency. Standard Process was named a Top 100 Workplace in Southeastern Wisconsin and is a member of the Inc. 5000 Honor Roll.
For additional information about Standard Process, visit standardprocess.com.