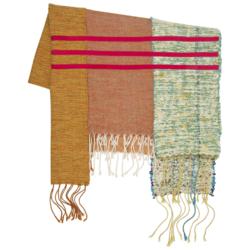 He's taken an ancient technique and made it relevant.  His work combines quality, simplicity and comfort. -Mike Smith owner Modern Forage
New York, NY (PRWEB) April 11, 2013
Couture Designer's New Line Stretches to Dress the House
Tossing an exquisite scarf around your neck transforms any outfit. Throwing a square of fabulous fabric over a bed or chair remakes a whole room. It was thus an obvious move for W. John Jameson III of Twisted Textiles to expand his gorgeous neckwear in both scale and function.
"Stitching my woven scarves together create a story and work in any interior," says Jameson, who hand weaves together everything from cashmere, silk, alpaca and Vermont handspun wool to hand-painted silk ribbons, metallics and exotic yarns from all over the world.
The New York City based artisan's original patterns and palettes have earned recognition in the crowded accessory niche of the fashion world. Plus his new line of throws is gaining similar traction, featured in American Craft April/May 2013 issue.
"When I saw W. John Jameson III's throw—a new product—it immediately felt familiar," says Mike Smith, owner of Forage Modern Workshop in Minneapolis, MN. "He's taken an ancient technique and made it relevant.  His work combines quality, simplicity and comfort."
Jameson's new line couldn't come at more favorable time. Interior designers and creative homeowners are discovering the aesthetic value of a striking handmade throw, and Jameson's range complements everything from traditional to uber-contemporary decors.
These "bed scarves" - as they're newly dubbed - are also seducing boutique hoteliers. They can make an bigger décor statement than a pricier paint job or new wall art, get less wear and tear than the common bedspread, and can easily be changed out with each new season or décor trend.
Not that you'd ever want to change out any of Jameson's work. These are heirloom collector pieces that have a trend resistant style. That's what defines this artisan, whose high-fashion sensibilities set him apart in the over saturated scarf market.
"Jameson could easily be categorized as a 'crafter,' but what distinguishes his work from being too crafty is the couture element he adds to each piece. His work feels much more high fashion than craft maker," writes Samantha Brown, a professional stylist with Style Made Simple.
Jameson's creative calling began at age 13, when he was accepted to Choate Rosemary Hall in Wallingford, Connecticut. The boarding school's Paul Mellon Arts Center allowed him to explore painting, drawing, sculpting and ultimately weaving. Jameson later completed a Mass Communications degree at Boston University, but his creative drive ultimately drew him to earn a second degree from The Fashion Institute of Technology (FIT) in New York City.
In 1992, Jameson began a fast climb up the corporate fashion world ladder, and launched his own New York City based company, Twisted Textiles, in 1999. His distinctive works have since shown in scores of the country's most distinguished shows and fairs, including:
The American Craft Council's shows in
Atlanta
Baltimore
Charlotte
Chicago
St. Paul
San Francisco
The CraftBoston Show
The Philadelphia Museum of Arts Craft Show
Twisted Textiles can also be found in boutiques, galleries and museum stores from coast to coast.