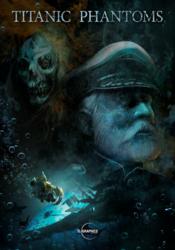 3D/4D/5D Movie 'Titanic Phantoms' has everything—adventure, thrill, and excitement.
Luxembourg (PRWEB) April 12, 2013
The new 3D/4D/5D Film of Eligraphics offers a wealth of emotional experience. It invites viewers to join a risky and thrilling submarine adventure of researchers-divers into the cold water of the Atlantic Ocean. There, at the bottom, lies the legendary Titanic, whose story and wreck site still continue to intrigue curious minds. Noteworthy, April 15th, 2013 marks Titanic's 101th anniversary.
What secrets does the ill-fated passenger liner keep? What creatures inhabit its corridors now? What about Captain Smith? Would he be still alive? Would the violins be still playing music there? All the answers are in the movie.
Before diving into the mysterious depths, viewers evade icebergs, encounter jumping dolphins, and experience fine splashes of water. The real adventure, however, starts when two capsules, brought by helicopters, plunge into the water. From this moment, viewers must be prepared for the unexpected. Bloodthirsty sharks, extraordinary deep-water species, awesome phantoms …
'Titanic Phantoms' has everything—adventure, thrill, and excitement. The film helps paint a fresh picture of what is happening inside the ship nowadays. Picturesque landscapes, best viewed in 3D glasses, and powerful digital audio, together synchronized with an active motion platform, produce an astounding experience. Moreover, breathtaking effects are sure to wow any audience. The film is available at 4D/5D cinemas and can also be watched at home with Smart TV 3D.
Recently Eligraphics has signed a 5-year licensing contract with Oscar-winning SimEx-Iwerks Entertainment for another 4D/5D movie 'Amazon' going to America & Canada. Fans of highly immersive motion pictures have now a good opportunity to tap into the world of 'Amazon' at attraction cinemas equipped by SimEx-Iwerks.
'Amazon' gets beholders into a stunning ride across one of the most beautiful and impressive places on Earth that was once inhabited by the Maya—the Amazon tropical rainforest. It keeps a secret of how the brilliant Maya civilization that thrived thousands of years ago surprisingly ceased to exist. Another puzzle of the mysterious civilization is their sacred treasure, securely hidden from any prying eyes. Viewers have a chance to uncover the wonders of the Amazon jungle, and ultimately find the treasure.
Get inspired with 'Titanic Phantoms' teaser : http://www.youtube.com/watch?v=Wdi-oO072Gc
Enjoy 'Amazon' : http://www.youtube.com/watch?v=tKptNSWPmOc
Keep tracking our new 3D/4D/5D films and like us : http://www.facebook.com/eligraphics
Business inquiries: Eugene Sh., info(at)eligraphics(dot)com
About Eligraphics Studio
Eligraphics Studio produces high quality 3-D stereoscopic movies for 4D/5D ride & attraction cinemas and Smart TV, as well as interactive real-time 7D games. Films created by Eligraphics are widely used at FX 4D theaters, motion simulators, and hybrid MotionFX theaters.
About SimEx-Iwerks Entertainment
SimEx-Iwerks Entertainment is a private company based in Toronto and Los Angeles. It has been the leader in 3D and 4D cinematic experiences for over 25 years. The company was founded in 1985 by Don Iwerks, a former Disney executive, a Disney Legend, and an Oscar winner, as well as by Stan Kinsey, a former Disney executive. SimEx-Iwerks has installed over 300 attractions in over 40 countries and is the largest distributor of 2D/3D/4D attraction films, with over 125 titles.