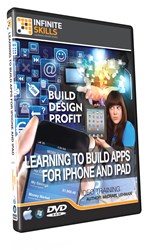 Learn IOS Development At Your Own Speed
(PRWEB) April 12, 2013
Software training firm InfiniteSkills Inc. last week introduced its "Learning to Build Apps for iPhone and iPad Training Video," a course designed to teach beginning app developers the basics of working with iOS development frameworks and procedures.
Apps are the backbone of the success of Apple's mobile devices, and with Apple on track to have one billion devices running iOS by 2015, the market for iPhone and IPad apps is only beginning to reach its potential.
InfiniteSkills' new "Learning to Build Apps for iPhone and iPad Tutorial" is designed to equip innovative thinkers with ideas for apps with the basics of app production and get their ideas into Apple's App Store as quickly as possible.
Learning to Build Apps for iPhone and iPad Training Video
Course author Michael Lehman is iOS development expert, currently heading an app development consulting company based in Seattle. He has been a software developer and information architect since the early days of computing, and began working with mobile devices in 1997 with the first hand-held wireless device, Palm 7.
Lehman's up-beat teaching style combined with his years of experience in development makes "Learning to Build Apps for iPhone and iPad Training Video" a concise and entertaining guide for developers of all experience levels.
The course starts with users creating a "Hello World" app, learning the basic elements of an app and introducing the Objective C programming language. Lehman then goes in-depth with the UI Builder, explaining how to add features that enhance user experience and allow users to navigate apps.
The course then covers storyboards, explaining how to include scenes and segues in an app and move data between the scenes. A chapter on advanced features explains geolocation, integrating social media, using reminders and alarms, and accessing the file system.
Other chapters cover data storage, debugging, app shipment, and resources for further study.
"To quote the old song, it's an app app app app world," Lehman says. "In this course, I teach how to take your ideas and turn them into apps one step at a time."
Free demo videos and a full list of course contents can be found on the Learning to Build Apps for iPhone and iPad training page of the InfiniteSkills website:
http://www.infiniteskills.com/training/learning_to_build_apps_for_iphone_ipad.html
InfiniteSkills offers its Learning to Build Apps for iPhone and iPad Tutorial either as a DVD or a direct download from the company website at a retail price of $99.95. All InfiniteSkills titles and formats are compatible with Mac and Windows operating systems. Shipping is available around the globe. Additionally, InfiniteSkills tutorials are supported by project files which correspond to examples in the videos, allowing users to work alongside experienced instructors right on their computer or iPad.
About InfiniteSkills Inc.
A leader in the field of software training, InfiniteSkills strives to offer the highest quality training available at an affordable cost. InfiniteSkills tutorials are task-oriented instructional videos, teaching complex skills by providing hands-on examples and guiding users as they carry out critical objectives. InfiniteSkills offers a comprehensive range of software titles available as DVDs, digital downloads, and in iPad editions, keeping with company aim of delivering professional training to customers anywhere they want to learn.