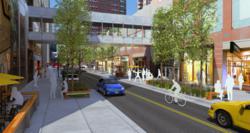 Window Shopping, Outdoor Dining, Street Vendors, and Pedestrians return to Walnut Street making it a 'must see' in Des Moines.
Des Moines, Iowa (PRWEB) April 24, 2013
Confluence is leading a multi-disciplinary team in preparing a streetscape improvement plan, along with a retail strategy and merchandising plan for the Walnut Street Corridor in downtown Des Moines. The team won the highly competitive commission with a mix of local design talent bolstered by urban media and a retail strategy consultant.
Historically, Walnut Street was bustling with pedestrians, shopping and vehicular traffic which in recent years have been replaced by vacant store fronts and noisy bus traffic. The goal of the project, which stretches from 2nd Street to 10th Street, is to re-introduce Walnut Street as a memorable connection and destination to draw visitors and residents back to downtown while also maximizing the City's dollars in infrastructure improvements. The Confluence team has held a series of focus group and public meetings to generate ideas for attracting visitors and encouraging after-hour shopping and dining by downtown employees. The Retail Market Analysis conducted by the team identified a need for 225,000 square feet of retail and restaurants in downtown Des Moines.
The resultant plan proposes a number of improvements to the district including urban gardens, illuminated public art, on-street parking, interactive kiosks, and a streetscape framework that provides space for outdoor dining, pop-ups, and vendors. Landscape treatments are focused at intersections in an effort to maximize views to storefronts. Construction is proposed for spring 2014.
Founded in 1998, Confluence is a professional consulting firm comprised of landscape architects and planners. The firm's work includes a wide range of public, educational, institutional, and private sector projects. Confluence has 18 licensed landscape architects and carries licenses in Iowa, Illinois, South Dakota, North Dakota, Nebraska, Missouri, Kansas, Wyoming, Wisconsin and Minnesota. http://www.thinkconfluence.com
For more information please contact Matt Carlile at mcarlile(at)thinkconfluence(dot)com.