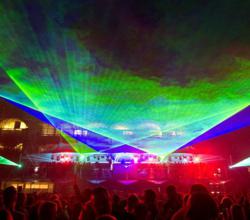 This might just be the biggest line-up to date, with three huge names from the music world transforming the picturesque Parade Ring into the coolest dancefloor under the stars
Chichester, West Sussex (PRWEB UK) 11 April 2013
This year's event is Goodwood's biggest line-up to date, with three huge names from the music world transforming the picturesque Parade Ring into the coolest dancefloor under the stars.
2013 DJ SETS AND DATES:
Friday 31 May - Rudimental (DJ set)
Friday 14 June - Andy Cato - Groove Armada
Friday 21 June - Trevor Nelson from Radio 1
As one of the world's most beautiful and highly regarded racecourses, Goodwood has truly reinvigorated horse racing by juxtaposing a classically British sport with the current passion for live, outdoor music events. After an exciting evening of horses thundering down the straight, the usually sedate Parade Ring turns into one of the most glamorous dancefloors in the UK, complete with spectacular laser show. Now in its third year, Three Friday Nights has already seen the likes of Mark Ronson, Mike Skinner and Boy George take to the decks and fill the countryside with the sound of music. Last year over 20,000 beautiful people soaked up this unique experience at the sell-out nights and this year is going to be even bigger.
Goodwood Racecourse offers a more 'pampered' festival experience - with a great selection of bars, private boxes and restaurants for guests to enjoy throughout the event. Free buses and coaches run from the Racecourse taking visitors back to major local towns and transport hubs, and Southern Trains run an extra, 'late night' service back to London ensuring that no-one has to sleep in a stable (!)