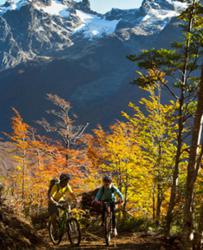 Los Angeles, CA (PRWEB) April 11, 2013
What defines a true getaway these days can be difficult to pin down. Travel plans can encompass anything from a breathless day at Disneyland to a cruise through towering fiords on the North Sea. As the concept of getting away is becoming harder and harder to accomplish by all the means there are to get places: helicopter, speedboat, even ziplining to your destination, the far corners of the world are becoming easier and more accessible to manage. Few places can claim that "out of reach" bragging right.
Dos Lagos Lodge on a mountain lake in the peaks of Patagonia protects the true meaning of "getting away" with large cabins inside a luxury spread for only eight people at most times of the year (28 people can be accommodated at full request). Come alone, come with your other, come with your favorite seven friends. There will never be a sound louder than the calling of a hungry condor and never an intrusion from civilization sneaking in between guests and nature.
Whether this is a writer's heaven or a mountain lair for hounded celebrities it's a complete experience for anyone who comes this way. Besides dining fireside, watching rainbows arc the lake from wood-hewn cabin accommodations, or hot-tubbing under ice-capped rock faces, there is simply too much to do and heeding the five-day minimum for stays here can be a trip-saver.
The Lodge is located on the Endless Waters Ranch, where two lakes converge inside the larger 442,000-acre Cerro Castillo National Reserve. It will be hard to find a map pin for this place: try the Coyhaique area of Chile's XIth Region - also known as Aysen - the heart of Chilean Patagonia – a land of myriad islands, craggy peaks, untouched forests, glacial rivers and pristine mountain lakes. Seventy-five miles of pro-built hiking and biking trails make up what is arguably the longest private trail system in the world.
Although, it is tempting to spend the days and nights enjoying the fresh fruits of the lakes and heady wines produced by the region, it's the mountains and trails that star here and require exploration by bikes and hikes and kayaks, jetboats, UTVs and horseback. Track the very rare and shy Huemul deer (of which there are but 1,500 in the world and most of those in their native Chile habitat); watch condors; fly fish on pure and still lakes; take a heli-tour into the Northern Ice Field. Learn to cook-up an impressive Patagonian lamb barbecue. Chef Giancarlo, one of Chile's most celebrated chefs, is always obliging.
Dos Lagos hosts guests in a four-bedroom main building, two two-bedroom cottages, and a barn-like building now has six new additional rooms, should the occasion require. The all-inclusive rates of $13,200 for four guests in low season to $42,200 for eight guests during high season leave plenty of room to plan and create a one-of-a-kind group experience at the top of the world where everyone has space and something pretty grand to do.
Coming up: Fall season in Patagonia. Temperatures begin to chill and the colors rival any New England setting with dry blue skies to match. Each cabin has its own wood-burning stove to keep things toasty on return from mountain explorations. Package rates begin to see their top values. Ask and receive: Dos Lagos Lodge can arrange heli-biking trips that take in the largest network of trails in the world.