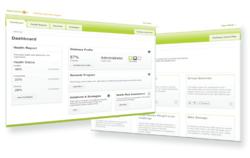 Seattle, WA (PRWEB) April 12, 2013
Until now, companies with fewer than 200 employees have been unable to accurately gauge the health of their population, unless their benefit's manager spent hours combing through multiple insurance claims reports. Healthentic has recently introduced the Wellness Decision Engine Spark, a whole health analytics platform, for use with these smaller businesses.
Spark paints an complete picture of a smaller group's whole health data by integrating employees' health risk assessment (HRA) data with a health report. Using a company's actual health data provides an accurate estimate of their employees' health risks and conditions. Some of the common conditions include: obesity, inactivity, back pain, Flu, tobacco use, depression, high blood pressure, cholesterol problems, and Diabetes.
Once the Spark analyzes your group's health, it creates a Wellness Action Plan (WAP), which is custom for your organization's unique needs. The WAP focuses on four areas of management needs including leadership and support, benefits and policy, communication, and employee programs. Going further, Healthentic's Spark will recommend wellness initiatives and workplace wellness policies designed to help alleviate a company's risk factors and improve the health of your company.
The Wellness Decision Engine, Spark eliminates most barriers to entry for an employer who wants to integrate wellness into their workplace. It helps organizations that do not have access to their insurance claims data and limited relationships with vendors and third-party solutions due to their size, but know that health and productivity could be improved at their organization. A rewards program is also included, which allows an employer group to easily incentivize their employees to participate in wellness and health-related programs.
Healthentic is a Seattle-based company who is passionate about helping employers and insurance brokers provide solutions to give people the power to change lives. Their flagship product, the Wellness Decision Engine, services larger employer groups and is powered by insurance claims data provided from medical, dental, vision, pharmaceutical, biometrics, and HRA carriers. With the introduction of the Spark product, Healthentic now offers solutions that can give any size of business the tools to finally make wellness relevant and measurable at any level.