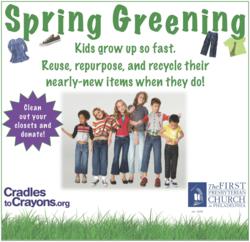 Philadelphia, PA (PRWEB) April 11, 2013
Spring cleaners take note! When cleaning out those closets, please put aside children's gently used clothing and toys that are no longer needed and bring them to First Presbyterian Church! The church is hosting a spring collection drive, which will benefit Cradles to Crayons, a non-profit organization that collects new and nearly new essential items for children in need, from birth to age 12. These include infants' and children's clothing, jackets, shoes, newborn baby items, baby safety equipment, toys, books, and school supplies.
From April 7 through May 4 items can be dropped off at The First Presbyterian Church, 201 S. 21st Street, Philadelphia.
On Saturday, May 4th from 10 a.m. to 1:00 p.m. First Presbyterian will host a "sorting" event where the collected items will be sorted prior to delivery to Cradles to Crayons. This will be a fun event with refreshments!
About Cradles to Crayons: Cradles to Crayons provides children in the Greater Philadelphia region from birth through age 12, living in homeless or low-income situations, with the essential items they need to thrive - at home, at school and at play. Cradles to Crayons supplies these items free of charge by engaging and connecting communities that have with communities that need.
About The First Presbyterian Church in Philadelphia: The First Presbyterian Church in Philadelphia at 21st and Walnut Streets was founded in 1698. First Presbyterian is a home to a diverse group of Christians from the greater Philadelphia region. The church is many voices but one people who seek to glorify God through worship, prayer, and theological inquiry, to live the love of Christ through service to others, and to provide a welcoming and nurturing presence in this urban community. The church is an active member of the Presbyterian Church (U.S.A.), the Presbytery of Philadelphia and the Covenant Network.