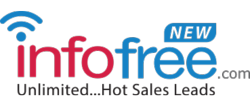 San Mateo, CA (PRWEB) April 10, 2013
infofree.com, the home of Unlimited Sales Leads and Mailing Lists for only $49.95 per month, has announced that its #1 search in March was its weekly New Business list.
According to CNNMoney, the rate of business creation has been steadily rising since 2006, with over 200,000 businesses opening up shop each month. New and emerging companies are ideal prospects for a wide variety of businesses, since they are in the market for hundreds of products and services. Whether they are construction services, machinery, equipment, signage, insurance, security systems, raw materials, or marketing solutions, the possibilities are endless.
The New Business database from infofree.com is updated on a weekly basis, along with the other weekly databases, including New Homeowners, New Parents, and Newlyweds. These lists feature some of the most recent information, and users can specify any geographic criteria to ensure that they get the most targeted list for their business, allowing them to contact their prospects before the competition and turn them into customers.
"The old saying is true: The early bird gets the worm. Our customers are eager to reach these prospects, and by using the freshest information, they have a much better chance of developing lasting relationships with these new businesses," says Vin Gupta, Founder of infofree.com.
To try infofree.com for 1 week for only $1, visit infofree.com/weektrial or call 877.448.0101.
About Us: infofree.com™ is revolutionizing the sales lead and mailing list industry by providing unlimited search, select, and view of over 14 million business records, 220 million consumers, and hundreds of other specialty databases for the low, flat price of only $49.95 per month or $449 per year. Reach new homeowners, new movers, newlyweds, new businesses, and more!
The infofree.com content is compatible with the following platforms: Oracle CRM, Salesforce CRM, Microsoft CRM, Nutshell CRM, Goldmine CRM, Sage ACT! CRM, Highrise CRM, Zoho CRM, NetSuite CRM, SAP CRM, Constant Contact, RightNow Technologies, Responsys, Vertical Response, and Dun & Bradstreet.