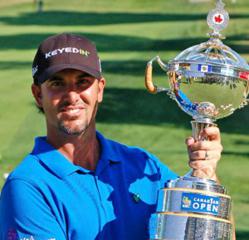 Piercy is in fine form coming into The Masters 2013, and will more than make a challenge to Woods and Donald
The Masters, Augusta, GA (PRWEB UK) 10 April 2013
The eyes of the world will be on golfer Scott Piercy – and with him his sponsor KeyedIn™ Solutions – when he takes on the iconic four-time champion Tiger Woods and Luke Donald in the first two rounds of the 2013 Masters at 10:45 ET, Thursday 11 April and then at 1:41pm ET on Friday 12 April.
In what will be his first Masters, Piercy faces Woods - one of the game's all-time greats - just as he returns to form and Donald, who spent a cumulative total of 55 weeks as the world number one and over 160 weeks in the top-10.
Piercy – winner of two PGA Tour titles – is in excellent form coming into the Masters, having raced up the world ranking to number 37 and recently beaten Donald in the prestigious Accenture Match Play. KeyedIn Solutions is confident that Piercy will more than challenge Woods and Donald at this year's Masters, and make a name for himself at one of the world's most celebrated and watched sporting events.
Piercy is the first sports sponsorship for KeyedIn Solutions, the software company that develops Cloud-based applications for the management of complex business projects and processes. KeyedIn's portfolio of products has taken the company from launch to more than 28,000 users and 19 global offices. Its focus on Cloud solutions has gained rapid acceptance within the small to mid-sized business market because KeyedIn applications don't require upfront capital investment or on-premise IT support. Analysts predict that over the next three years, Cloud/SaaS will grow nearly five times faster than traditional software installations.
Lynda Dahlheimer, KeyedIn's Vice President of Marketing, stated: "Our partnership with Scott has been exciting since we started sponsoring him at the beginning of the 2013 PGA Tour – but the fact that Scott has been paired with Woods at the Masters takes our excitement to a new level."
Dahlheimer continued, "Scott deserves this opportunity and we're very confident that he can make a name for himself in front of a global television audience of millions as he takes on two of the world's greatest golfers. KeyedIn has enjoyed a similar trajectory to the one Scott has been on in terms of our growth and drive to help clients achieve their goals. We look forward to a bright future together on the world stage."
About KeyedIn™ Solutions
KeyedIn™ delivers Cloud-based integrated business software systems that focus on the unique needs of specialized vertical markets. KeyedIn offers a true SaaS model that is flexible, scalable and affordable, solving complex operational and organizational problems and delivering business value quickly.
As an agile, fast-growing company, KeyedIn is focused on delivering powerful results in critical areas like project management and custom manufacturing solutions, including enterprise resource planning (ERP), project/program portfolio management (PPM), program management office (PMO) and professional services automation (PSA). Its solutions are offered in several editions to serve the needs of organizations ranging from small businesses to large multi-national corporations.
KeyedIn clients gain control and visibility over resource capability and deployment, streamline their workflow processes, increase operational efficiency and achieve cost savings that lead to a significant improvement in the bottom line.
Learn more at http://www.keyedin.com
Contacts:
Sue Baker or Rory ffoulkes, Lexicon Public Relations Ltd
Email: sbaker@lexiconpr.com or rffoulkes(at)lexiconpr(dot)com
US press inquiries Tel: +1 952.835.1041 ext.130
UK press inquiries Tel: +44 1943 830 626