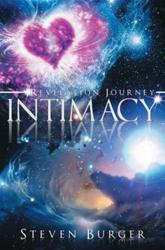 "I want readers to find the book as an astonishing reveal of so much past, present and future, particularly all about the supernatural of God and Heaven," says Burger. "I was merely God's instrument to bring this to the world."
Newport Beach, CA (PRWEB) April 15, 2013
Intimacy: Revelation Journey, by Steven Burger, is a creative exploration of eternity that takes readers on a supernatural journey from Heaven to Earth and back again, only to supernaturally return to Earth a very different world.
The book helps readers discover the true meaning of intimacy and relationship with the Almighty God, the meaning of life on Earth and the mysteries of life revealed by God himself.
After reading Intimacy: Revelation Journey, Burger hopes readers will experience the end from the beginning, the beginning from the end, revelation of divine design and purpose, all in preparation to accept and flourish in their never-ending, intimate love gift – eternity.
"I want readers to find the book as an astonishing reveal of so much past, present and future, particularly all about the supernatural of God and Heaven," says Burger. "I was merely God's instrument to bring this to the world."
Intimacy: Revelation Journey captivates audiences as a spiritual adventure of unimaginable splendor and grandness; bringing lasting, miraculous change to all life on the planet.
Intimacy: Revelation Journey
By Steven Burger
Softcover $17.95, 978-1-44977-963-4
E-book $3.99, 978-1-44977-964-1
Available at amazon.com, barnesandnoble.com, westbowpress.com
About the author
Steven Burger is a 30-year veteran of the Hollywood Motion Picture industry. As an author, he is bringing to life his divine supernatural experiences in order to unite the world in the spirit of God. As God's instrument, he is bringing this incredibly important information to the world. From a personal standpoint, he is a husband, Christian, former football player and founder/owner of Heavenly Intimacy Ministries. Burger currently lives in Newport Beach, California.
# # #