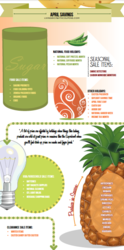 Coupons are great, but you save even more money every month simply by knowing which grocery and drugstore items are on sale that month
Lincroft, NJ (PRWEB) April 11, 2013
Helping more people save more money, Living Rich with Coupons recently released its "Guide to Grocery Sale Cycles – Getting the Best Prices" for consumers interested in year-round savings. The guide can now be downloaded for free on the Living Rich with Coupons website.
The one-of-a-kind guide includes savings by month for both food and drugstore items, national food holidays, common clearance items and other tips for living rich with coupons. By understanding what's in season, consumers can stock up during monthly promotions and increase their overall savings.
Living Rich with Coupons is a one-stop online resource for savings that focuses on grocery and food savings. Founder Cindy Livesey's family of five has saved more than $11,000 a year in groceries, reducing their weekly bills from $275 to $50, with a focus on becoming completely debt-free.
"Coupons are great, but you save even more money every month simply by knowing which grocery and drugstore items are on sale that month," said Livesey, creator of LivingRichWithCoupons.com and a member of the Coupon Network Advisory Board. "Prices can be influenced by holidays when baking products, for example, are often on sale or even the Super Bowl, when you'll find stock-up prices on snacks and finger foods. Knowing when products will be at their lowest prices and combining them with coupons allows you to stock up and save even more."
The Living Rich with Coupons site also offers a useful grocery price comparison tool that helps people find the best prices at local stores as well as variety of coupons and codes, product bundles and special savings as well as freebies.
"At Living Rich with Coupons, we are dedicated to helping families save as much as possible through coupons, sales, special discounts and great offers. I absolutely love helping families save more money on everything from fresh fruit to toothpaste and am thrilled to offer this new printable guide," Livesey added.
About LivingRichWithCoupons.com
Launched by Cindy Livesey in 2009, Living Rich with Coupons provides coupons, savings and deals, particular for groceries. The site also offers tutorials on couponing, budgeting and living life debt-free. For more information, please visit http://www.livingrichwithcoupons.com