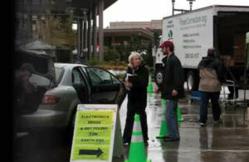 "InterConnection has done a great job in providing companies with professional IT Asset Disposition and we are happy to be able to offer our employees a sustainable and charitable option for recycling their personal computers and electronics while helping
Seattle, Washinton (PRWEB) April 11, 2013
For the second year in a row, Microsoft employees in Redmond, Wash., can recycle their personal old laptops and desktops for charitable reuse on Earth Day. The partnership between InterConnection.org and Microsoft will help hundreds of low-income families and nonprofits nationwide.
Reusable equipment will get refurbished, which includes secure data wiping, at InterConnection's Computer Reuse Center in Seattle. Non-functional equipment will get properly recycled according to the highest environmental standards.
"InterConnection has done a great job in providing companies with professional IT Asset Disposition and we are happy to be able to offer our employees a sustainable and charitable option for recycling their personal computers and electronics while helping nonprofits locally as well as nationwide," said Rob Symington, Manager, Environmental Sustainability, Microsoft.
Last year, donations from Microsoft employees benefited 94 low-income families, students and nonprofits and on top of that, the reuse and recycling saved enough electricity to power 1,000 homes for a full year.
"Microsoft is a leader, not only when it comes to software and hardware, but also in aligning their environmental goals with charitable giving. We are proud to work with them and excited that more and more companies choose to reuse," said Rasmus Mortensen, Donation and Marketing Manager at InterConnection, hoping that more companies will follow Microsoft's lead and provide a way for their employees to donate used computers to charitable reuse.
InterConnection provides refurbished computers and technology support to nonprofit organizations across the U.S., in developing countries and to many low-income individuals and students in the Puget Sound area. In 2012, 828 nonprofits and 1236 low-income families or students benefited from InterConnection's reuse programs.
InterConnection is the only non-profit in the U.S. that holds the leading certifications in the electronics recycling industry - Responsible Recycling (R2) and ISO14001:2004. The certifications ensure that no e-waste is exported, that all data is destroyed and protect donors from the environmental, business and legal risks that are inherent with disposing of old IT equipment.
Businesses and individuals that can't participate in the event can always drop off at one of their nine drop off locations.
Businesses can call (206) 633-1517 for a free pick-up.
Visit http://www.interconnection.org/earthday to learn more.