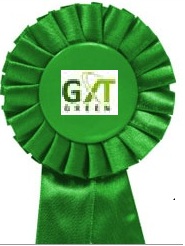 Billerica, MA (PRWEB) April 11, 2013
Billerica, April 10 2013- Every year, in celebration of Earth Day, GXT Green recognizes organizations that have made significant contributions to sustainability efforts in their individual companies, their communities, or to the global community. We are proud to announce the finalists from the nominations which were received this year. The winners will be announced in time for Earth Day, on April 22nd, 2013. All individuals who nominated candidates in 2013 received a free WheelSeal Medallion for their car, which indicates that GXT Green has offset the carbon footprint of their vehicle for the year.
For 2013, The GXT Green Honor Roll placed a special focus on US based town, county, and state, and NGO officials. In addition, in recognition of nominations which we received for corporations, we have included a limited number of companies in the finalist group. In announcing the finalists, Manas Chatterjee, President and CEO of GXT Green commented "The choice of finalists was especially difficult this year, as there were many very accomplished candidates. We thank everyone for their nominations, and all of the nominees for their accomplishments in sustainability".
The detailed list of finalists which includes a description of their accomplishments can be found at http://www.gxtgreen.com/honorroll.
Public Sector and NGO Finalists:
1. Rob Garrity, Executive Director, Mass Climate Action Network.
2. Massachusetts State Representative Lori Ehrlich
3. Massachusetts State Senator Jamie Eldridge
4. Vermont Senator Bernie Sanders
5. John R. Connolly, At-Large Boston City Councilor.
6. Jen Jordan, Recycling Coordinator, City of Iowa City
7. Michael Bloomberg, Mayor of NY, NY
8. Bill DeWitt, Town Councilor in Barrington RI.
9. Mike McGinn: Mayor of Seattle, WA
10. Michael Nutter, Mayor Philadelphia, PA
11. David Hales, President of Second Nature (NGO):
Corporation Finalists:
1. Expressway Toyota, Boston MA
2. Roche Brothers Groceries, Wellesley MA
About GXT Green:
GXT Green, "where Economics Meets Ecology" is a leader in creating and leveraging strategies, services, and products that help the corporate community meet their economic and social sustainability needs.
GXT Green supports clients in three areas:

Drive improved profitability and sustainability through innovative products that address urgent environmental concerns such as plastic bags and Styrofoam packaging pollution. Products include ECOgrade™ photo-degradable bags; the underlying ECOgrade Resin additive which can be used as a cost effective and sustainable plastic resin alternative; and the ECO-R3SP zero-waste packing solution.
Design and execute green marketing strategies to enhance corporate brands. Outstanding sustainability accomplishments are recognized as a public service through the GXT Green Seal Certification Program.
Complete the zero carbon footprint equation by developing and offering carbon offset credits derived from the highest quality carbon projects around the world. GXT Green is involved in development of REDD+ carbon offset forestry projects in several countries.
GXT Green is a division of Global Exchange Technologies, Inc. http://www.GxtGreen.com.