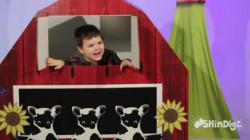 South Whitley, IN (PRWEB) April 10, 2013
Children's birthday parties can be simple or extravagant. Shindigz, a leading, national party supplies company, offers a complete line of personalized party products for parents who want to go above and beyond by creating birthday decorations and favors with their children's images, names, and ages.
"Kids eyes light up when they see how colorful and fun a ladybug or farm birthday party theme can be," observes Keith Bansemer, Director of Internet Marketing at Shindigz. "To help parents visualize all the ways they can personalize these birthday parties with their child's name, we've recently added short videos to our web site for several colorful kid's themes."
In lieu of television or book characters, these newer party themes are cute and interactive, making the birthday boy or girl the center of attention.
Parents love using pictures of their children's faces as the focus of the party decorations. Make the guest of honor appear to shoot out of a cannon at a circus-themed party or create a life-sized standee of the birthday boy or girl next to buried treasure at a pirate birthday party. These custom decorations are memorable backdrops in the photos used to create keepsakes, thank-you notes, or social media posts.
The personalization of children's birthday parties doesn't stop at decorations. Parents are using their children's names, ages, and images to create personalized party favors. Young children can forever remember their early birthday parties with the personalization of mint tins, coasters, banners, photo frames, canvases, and more.
Here are some of the most popular up-and-coming birthday themes that party-throwers are personalizing for their youngsters:
Barnyard Bash
Farm animals are big right now. A barnyard bash showcases farm animals like sheep, cows, and pigs. Personalized banners make the barnyard bash come to life and celebrate the birthday boy or girl. A large red barn acts as a decoration and activity for the kids at the party.
Bumble Bee
From the party invitations to the decorations, Bumble Bees provide a bright and fun party theme. These black and yellow decorations are appropriate for boys and girls and are a perfect theme for spring and summer birthday parties.
Dinosaur
Dinosaur standees as tall as the birthday boy or girl make dinosaur parties all the rage. A personalized birthday banner puts a memorable spin on the dinosaur-themed party, which is loaded with dinosaur, larger-than-life decorations.
Ballerina
Tiny dancers are finding personalized ballet decorations are making their parties remarkable. Pink and purple decorations with an emphasis on ballet slippers are popular for little girls around the country.
About Shindigz
Shindigz strives to "make life more fun" and has been a part of 23 million events through the manufacture and sale of personalized party products. It ships products from its facilities in South Whitley, Indiana across the United States and around the world to 59 countries. With more than 34,000 items and 25,000 custom products, it's been providing customers with complete party solutions since 1926. For more personalized birthday decorations and favors, visit Shindigz.com.