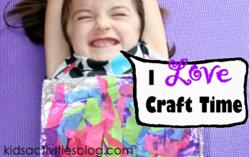 Aluminum foil will have the kids asking for more and more and the creations are endless.
Dallas, Texas (PRWEB) April 11, 2013
Aluminum foil craft produces stunning shiny creations. Kids love to have creative adventure playtime by making tin foil craft. The fun with foil is endless with the laundry list of ideas published on Kids Activities Blog this week.
Kids Activities Blog loves when things found in the kitchen become art. Making a tin foil collage is one of the creative masterpieces even the youngest kids can participate in. Materials needed are tin foil, carton from cereal boxes, markers, glue, tape, and various decorations such as pom poms, tissue, or glitter.
To make the foil canvas cut out the cereal carton and wrap it in aluminum foil and tape it on the back. The next step is to add color on the cool aluminum canvas. There is no wrong way. Markers, tissue, pom poms or other decorations can be used. Once the creation is finished let it dry and put close to sun light. The masterpiece will be a stunning shiny keepsake for years to come.
Other fun foil crafts include shaping the tin foil into all sorts of creations such as boats, animals, and boxes. The kids will also have fun wrapping the foil around toys and other items. Playing guessing games with items found around the house are super fun as well.
For detailed instructions and to get additional foil craft ideas, check out Kids Activities Blog this week. Come get inspired and let the kids have lots of fun with aluminum foil.
About Kids Activities Blog
Kids Activities Blog is a website created by two moms (who collectively have 9 children), Rachel Miller and Holly Homer from June Cleaver Nirvana. It is their daily goal to inspire parents and teachers to play with kids. This interactive website publishes simple things to do with kids twice a day. Kids Activities Blog is a great tool for moms and teachers to find kid-friendly activities that create memories and sneak learning into the fun.