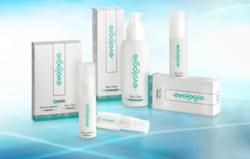 New York, NY (PRWEB) April 12, 2013
EVOLOGIE® is the next generation in skin-care products enabling people of all ages and ethnicities to maintain clear and healthy skin. And EVOLOGIE® has the clinical trials to prove it!
EVOLOGIE®'s patent-pending YS3 Complex clears skin quickly, locks in hydration and works in conjunction with skin's natural mechanisms to heal and protect itself - delivering results that last. This is much-needed innovation in a skincare category that is still using decades old formulations.
New York Times reported the rise in adult acne in February, "According to the American Academy of Dermatology, a growing number of women in their 30s, 40s, 50s and even beyond are seeking treatment for acne." This increase in adult acne is in addition to the American Association of Dermatologists' report that 40 percent of adolescents have acne. Most clear skin products on the market today work only on the surface of your skin, despite claims of deep penetration, and contain high concentrations of ingredients like benzoyl peroxide. Continued use of benzoyl peroxide causes extreme dryness, even surface micro-cracks - the perfect environment for bacteria to grow. The dryness triggers increased oil production resulting in clogged pores, inflammation and increased breakouts. Even some doctor-prescribed acne treatments have dangerous side effects. Accutane, while effective on severe forms of acne, has "documented side effects including birth defects, depression and severe skin dryness" as recently reported by the New York Times. So, whether you have occasional blemishes or pervasive acne, it's difficult to find maintainable clear skin solutions that don't have negative sides effects and/or dehydrate and damage skin.
What Is the Evologie® "Difference" for Achieving and Maintaining Clear and Healthy Skin?
What sets EVOLOGIE® apart from traditional acne products is the revolutionary patent-pending YS3 COMPLEX®. YS3 COMPLEX® is a unique non-drying formulation that rapidly and effectively penetrates the normal epidermal lipid barrier while strengthening skin's natural protective barrier to prevent future breakouts. Proprietary Arginine combinations in the YS3 COMPLEX® increase blood flow which improves the absorption of the natural blemish-fighting and protective ingredients that clear and nourish the skin. Arginine also locks in water at the skin's surface, reducing TEWL (trans epidermal water loss), and dramatically improving hydration to prevent dryness. Another vital ingredient is Lycopene, which is a proven powerful anti-oxidant and skin protector (The Wall Street Journal 10.11.2012).
The proprietary natural ingredients in the EVOLOGIE® products were clinically tested under medical supervision and proved to be safe and effective for all acne-prone skin types as well as for people with sensitive skin. EVOLOGIE® is non-drying and can sustain healthy skin for continuous, long-term use. The EVOLOGIE YS3 COMPLEX® works with skin's own ability to heal, protect and strengthen itself and delivers clear, sustainable results distinguishing it from the mass of acne treatments currently available.
How It Works
While the YS3 COMPLEX® innovation and research is intricate, the usage is simple, and the results are dramatic. Used in combination, the cleanser, cream and serum are most effective at maintaining clear skin while improving hydration and skin health. EVOLOGIE® has created the INTRODUCTORY KIT with a month's supply of products (a $106 value offered at $65 for a limited time only, while the supply lasts.)
Evologie® Introductory Kit Includes:
Cleanse
EVOLOGIE® STAY CLEAR CLEANSER is an advanced formulation with anti-bacterial agents that washes away acne-causing bacteria and deeply cleanses skin without drying. Natural ingredients with soothing botanicals leave skin clean, soft and refreshed. Use twice daily – morning and night.
5.0 Fl Oz /150 mL
Treat
EVOLOGIE® INTENSIVE BLEMISH SERUM rapidly clears blemishes, pimples and lightens spots. This unique doctor-developed formulation deeply penetrates the skin with its trans-epidermal absorption enhancers to quickly clear blemishes at the source. Use together with the Stay Clear Cream twice daily for best results.
0.23 Fl Oz / 7 mL
Prevent
EVOLOGIE® STAY CLEAR CREAM prevents breakouts and reduces the appearance of post-acne scars and other complications that occur with breakouts. Its patent- pending YS3 COMPLEX® hydrates deep under the skin to prevent drying and irritation. Use twice daily – morning and night.
1.0 Fl Oz / 30 mL
For recent press coverage, testimonials and product information relating to the entire EVOLOGIE® Stay Clear line visit: http://www.evologie.com. Stay connected with EVOLOGIE® on Facebook and Twitter.