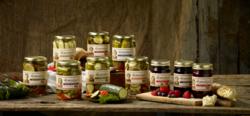 Our fresh-pack pickling process allows us to capture the crunch, flavor and natural look of the recipes made in home kitchens before they won a blue-ribbon at the state fair - Jim Cook
Chaska, MN (PRWEB) April 11, 2013
Gedney Foods Company (Co.) goes back to their heritage and back to the kitchen with a new line of pickles and preserves called Gedney Homestyle. Homestyle products are a more natural offering, but are still based on the authentic recipes awarded blue-ribbons at the Minnesota State Fair, with two additional varieties inspired by the 1881 founder of the company; Matthias A. Gedney.
Gedney Homestyle Pickles & Preserves are a response to increased consumer demand for food products with "no artificial flavors or colors." Each of the seven pickle varieties in the new "crop" of Homestyle Pickles features visibly healthy servings of cucumbers, onions, peppers, spices and whole garlic chunks gently brined in vinegar to blend the natural flavors. The three popular preserve flavors inspired by state fair winning-recipes combine simple ingredients of real berries and real sugar. All of the Homestyle products are gluten-free, fat-free and do not contain high fructose corn syrup, artificial flavors, colors or preservatives.
The stories of the people whose recipe inspired each naturally delicious variety can be found on the side panel of Gedney Homestyle Pickles and Preserves. The new items replacing the State Fair line will be located near existing Gedney varieties at major grocers primarily in the Upper Midwest by the end of second quarter 2013.
Gedney Homestyle Pickles:

Dill Chunks w/ Garlic – Matthias A. Gedney
Signature Kosher Dill Spears w/ Garlic - Matthias A. Gedney
Nita's Hot & Sweet Chunks – Nita Schemmel
Nita's Petite Bread & Butters – Nita Schemmel
Grandma's Baby Baby Dills – Kathy Earnest
Old World Spicy Dills – Vicky Gjerde
Sweet Garden Crunchers – Les Grant
Gedney Homestyle Preserves:

Raspberry Preserves – Grace Anderson
Strawberry Preserves – Ann Hill
Tripleberry Preserves – Virginia Bratton
"Pickle lovers have always been passionate about our State Fair line, but have been asking for a more natural approach without any artificial colors – Homestyle marries the recipes they love with the goodness of real, quality ingredients," said Jim Cook, VP Technical Services, Gedney Foods Co. "Our fresh-pack pickling process allows us to capture the crunch, flavor and natural look of the recipes made in home kitchens before they won a blue-ribbon at the state fair"
The design of the thinner, scallop-edged Gedney Homestyle label, created by Spangler Design Team (Minneapolis, MN) allows consumers to see more of the real ingredients. It has a fresh look yet still communicates the heritage and simplicity of each homegrown recipe.
About the Gedney Foods Company
Gedney Foods Company, founded in 1881, enjoys a 132-year history of making extraordinary pickles, condiments, dressings and preserves. Gedney Foods Company makes and markets a variety of pickles under the Gedney brand and Homestyle name throughout the Midwest; as Del Monte pickles and relish across the United States under license from Del Monte Foods; and under the Cains brand name in the northeast corner of the U.S. Gedney Foods Company is headquartered in Chaska, Minn. For more information on the company and brands, visit gedneyfoods.com. Pickle fan? Then go to DillythePickle on twitter and like under the same name on Facebook.
###
Contact:The Murphy Group 763-416-0858
daleann(at)themurphygroup(dot)com
Media Note: label art and personality images as well as product samples and winner interviews available by request