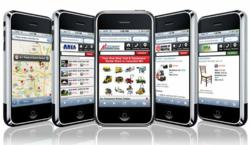 The Host Group can take any existing site, and make it smartphone compatible with a fully customized mobile website upgrade
Seattle, WA (PRWEB) April 10, 2013
The management and staff at The Host Group agreed on Monday afternoon to launch the expansion of their growing custom website design with an array of smartphone website design packages. Over 100 million iPhone's and smartphones have been sold in the United States, and mobile web surfing continues to explode at an exponential rate. The staff and owners at The Host Group agreed unanimously that adding custom smartphone website design to their arsenal of products is a huge step forward.
The Host Group Founder and CEO Doug Davis explained, "As more and more people use their smartphones, particularly the iPhone, to surf web content, site owners miss out if their website content doesn't load quickly, displaying properly, and utilizing iPhone's many features and functions." Unfortunately, the majority of websites were not designed or developed to fit on small screens such as the iPhone and other smartphones, however...the professional and capable team at The Host Group can help any sized business website more iPhone/smartphone compatible.
Offering fully customized smartphone and iPhone website design and development services, The Host Group can take any existing site, and make it smartphone compatible with a fully customized mobile website upgrade. They'll design, code and configure the customers website for the iPhone, Droid, Blackberry, and many other smartphones with similar capabilities.
Doug Davis also added, "The great thing about these mobile device website design services with The Host Group, is that our team will develop your new mobile website so it automatically detects the device that decides which website it shows on the phone. This gives the user the richest experience, because having an iPhone enabled website design improves the ease of navigating." The custom website design team at The Host Group has found that smartphones give business owners a competitive edge, fresh look and improved value for their prospective customers.
Contact The Host Group today to find how you can get your current website content converted for smartphone compatibility. Special introductory rates apply for all existing hosting customers in the United States and Canada.
Just visit http://www.thehostgroup.com.