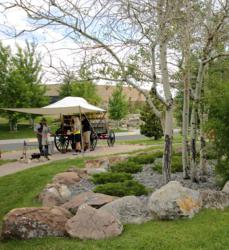 ...the chuckwagon cook was almost royalty.
Cody, Wyoming (PRWEB) April 24, 2013
The Buffalo Bill Center of the West's well-seasoned campfire cook, "Cookie" Ron Reed has become quite popular with summer visitors as he daily prepares campfire beans, biscuits, and coffee from his chuckwagon stationed in front of the Center in Cody, Wyoming. Now, individuals can learn how it's done with this Memorial Day weekend workshop.
Participants cook a meal over an open fire using Dutch ovens and charcoal with all food and supplies provided. Those campfire cooks with their own Dutch ovens can bring them along if they prefer. The fees are $65 for members of the Center of the West and $75 for non-members; register by emailing Emily Buckles (see contact info above) or call 307.578.4110.
The Dutch oven—which originated in Holland in the seventeenth century—had a prominent place in frontier America once colonists brought them from England. Lewis and Clark carried one; mountain men strapped their ovens in their bundle of belongings; Native Americans valued the Dutch oven for its versatility and often traded furs or other valuables for the pots; and the myriad of pioneers heading west brought theirs along and considered them so special that they often willed them to the next generation.
During the long trail drives, the chuckwagon became the headquarters of every cattle outfit on the range, and the chuckwagon cook was almost royalty. Good food was key to the cowboys' morale, and they soon learned that following Cookie's rules made their lives a whole lot easier. They knew to ride downwind of the campfire so they wouldn't get dust in the food; for the same reason, there was no scuffling allowed near the chuckwagon. Riders couldn't tie their horses to the chuckwagon wheel or allow them to graze too close to camp, and shivering cowboys had to find another place to keep warm when mealtime fare was sizzling over the cook's fire. Even the wagon boss walked softly around the chuckwagon cook.
Enjoy the fun and learn all the finer points of cooking over an open fire along with more on that chuckwagon. Register today for this unique workshop, and stay abreast of the Center's activities at centerofthewest.org.
_______________________________________________________________________________
Since 1917, the Buffalo Bill Center of the West has been committed to the greatness and growth of the American West, keeping western experiences alive. The Center, an affiliate of the Smithsonian Institution, weaves the varied threads of the western experience—history and myth, art and Native culture, firearms, and the nature and science of Yellowstone—into the rich panorama that is the American West. The Buffalo Bill Center of the West moves to summer hours of 8 a.m. – 6 p.m. May 1. (Through April 30, hours are 10 a.m. – 5 p.m.) For additional information, visit the Center's Web site or its Facebook page.