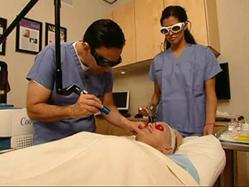 Los Angeles, California (PRWEB) April 10, 2013
According to an article published in the spring 2013 issue of New Beauty magazine, there are a variety of ways that one can prevent or reverse various changes brought on by pregnancy. Issues such as loose skin, saggy breasts, stretch marks, and acne plague many post-partum women. However, these can be combated with treatments ranging from traditional plastic surgery to minimally invasive cosmetic treatments (Go to goo.gl/XBX7A).
"Mommy Makeovers are typically a combination of procedures to address multiple issues," says Dr. Simon Ourian, Medical Director of Epione Beverly Hills. "In our office, we use several modalities to address loose skin and stretch marks."
Significant weight gain during pregnancy can result in loosened skin when that weight is dropped post-partum. Loose skin occurs because collagen and elastin fibers become damaged as the skin stretches. For mothers seeking significant results, treatments using radio frequency and tummy tuck surgery will help tone the skin.
Stretch marks are a common part of pregnancy as the body is expanding. It happens when the collagen in the skin rips. Radio frequency and laser resurfacing treatments can help tighten the skin but work best immediately after the stretch marks appear. New stretch marks appear red while older ones, the kind that are difficult to remove, appear white.
If one chooses to breast-feed their child, breast size will increase and decrease with each feeding. This can leave one with breasts with a saggy appearance. To correct this issue, a breast lift or augmentation will help.
Acne can still plague some pregnant women. If pimples become infected, the inflammation can result to red blotches and scarring. Some pimples can be prevented by using a facial cleansing brush and a facial wash containing 5% benzoyl peroxide.
"It is important to note that laser resurfacing treatments, retinoids, and other treatments are recommended only after breast feeding has ceased," advises Dr. Ourian.
Dr. Ourian has been a pioneer in laser technology and non-invasive aesthetic procedures including Restylane, Juvéderm, Radiesse and Sculptra. These treatments are used for the correction or reversal of a variety of conditions such as acne, acne scars, skin discoloration, wrinkles, stretch marks, varicose veins, cellulite, and others. More information about post-pregnancy treatments can be found on Epione's website.