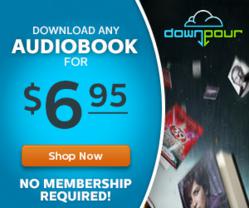 "The $6.95 download offer has been one of most popular promotions that we have launched to date." - Kyle Byers, eCommerce Marketing
Ashland, Oregon (PRWEB) April 22, 2013
Downpour.com will provide any consumer that visits their new audiobook retail site the chance to purchase a single DRM-free audiobook download for only $6.95. The campaign, which is being actively promoted via TV buys in major markets such as New York and Los Angeles, was designed to appeal to both casual and frequent audiobook listeners who are seeking a purchasing choice and an ecommerce site that does not require a membership to buy an audiobook and save money. "This is a fantastic way to engage with consumers and get them exposed to Downpour.com. People can come to our site and find a great selection of audiobook downloads and buy any one of them for only $6.95," stated Jay Tapp, Head of US Marketing. "We are finding that consumers are really looking for options -- if they want memberships that's great; on Downpour.com you can become a member, and you can shop without a membership too -- it's the best of both worlds."
The $6.95 for any audiobook download promotion is good for the next few weeks and the code is available on the home page of Downpour.com. "The $6.95 download offer has been one of most popular promotions that we have launched to date," added Kyle Byers, eCommerce Marketing Manager. "Our goal is to add thousands of new audiobook titles each month to provide a robust selection of classics and best-sellers."
The Downpour.com customers will also find free app downloads for mobile devices such as iOS and Android. The customer care team at Downpour.com has live customer service agents to help consumers appreciate their audiobook experience.
Downpour.com is an ecommerce retail audiobook site that is owned by Blackstone Audio and AudioGO, which have over 30 years of publishing experience and content libraries of thousands of audiobooks and BBC series. Downpour.com has deals with all major publishers to provide audiobook download content. In addition to downloads, Downpour.com provides consumers with CDs and MP3 CDs of all Blackstone titles.