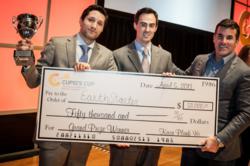 Our mission is to cultivate gardeners, not gardens.
College Park, MD (PRWEB) April 11, 2013
The University of Maryland's Earth Starter, maker of the Nourishmat modular garden kit, took home $52,500 as the top winner of the eighth annual Cupid's Cup. In its first year as a national business competition, the event was held April 5 at UMD's College Park campus, hosted by the Dingman Center for Entrepreneurship at the Robert H. Smith School of Business. Cupid's Cup is sponsored by UMD alumnus Kevin Plank, founder and CEO of Under Armour, the Baltimore-based leader in performance apparel, footwear and accessories.
Earth Starter is hoping to ride the waves of their Cupid's Cup victory this month as they launch a Kickstarter crowdfunding campaign. The ultimate goal of this campaign is to fundraise so that the company can keep the product's manufacturing operations entirely in the United States and not have to turn to overseas production because to squeeze out a larger profit margin.
As the grand prize winner, Earth Starter will also benefit from exclusive access to Plank's professional network, one of the added bonuses of winning this year's expanded competition. "I'm looking to identify and reward students who have the entrepreneurial drive and conviction to take the risk to start a business," Plank said. "The University of Maryland has proven to be incredibly fertile ground for talented entrepreneurs, and I am excited to expand our search and to share this inspiring program with passionate students across the country." This was the eighth year of the competition, which was started by Plank as a way to foster innovative entrepreneurs and small startup companies.
Earth Starter will use the funding to underwrite the cost of producing their Nourishmats and customized seedballs, made using non-GMO sourced seeds, to meet the explosive customer demand for these products. Also in the works for Earth Starter will include the newly-released Herbmat, a smaller version of the Nourishmat for growing different herb varieties and introducing true farm-to-table products to restaurants. To order the Nourishmat and the newly-released Herbmat, visit Earth Starter's website.
According to Earth Starter CEO and Co-Founder Phil Weiner, "growing one's own food and flowers is a rewarding experience, but it is challenging and daunting to the unseasoned gardener. In fact, most people don't even think they have the time or space to start a garden, until now."
"Our mission is to cultivate gardeners, not gardens," said Weiner. "The company is helping to reconnect busy people with their food who want to eat healthily in what we are calling the NourishMovement."
Nourishmat features a weed barrier and built-in watering, which simplify some of the most time-consuming aspects of gardening, such as watering and weeding. Users can simply roll out the Nourishmat on any healthy soil area or raised bed, follow the planting holes that have been strategically placed and spaced, and plop easy to use seedballs in the planting holes without digging. The Nourishmat not only makes the process simple, it also provides an incredible return on the customer's monetary investment, producing 19 varieties of food and flowers from seedballs year after year. The product is biodegradable, made entirely in the United States and is guaranteed to last for three to five years. The Nourishmat is also gentle on the environment, reducing water usage by over 80 percent compared to mainstream gardening.
About Earth Starter and the Nourishmat:
Nourishmat, developed by Earth Starter, LLC, is an innovative gardening product geared towards empowering people to grow their own food. The design and construction of Nourishmat takes the guess work out of gardening. The Nourishmat, which was officially launched on Earth Day 2012, features built-in irrigation, custom-made seed balls and crop-specific spacing guides printed on a weatherproof weed barrier. The product serves as a tool to help busy humans supplement their diets with healthy, homegrown produce and to promote food growing in their communities. To learn more, visit http://www.nourishmat.com.
###