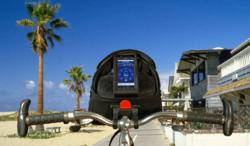 Hundreds of customers have been delighted with the high quality stereo sound and sheer loudness of the Jam-Pac and Jam-Lite bicycle speakers
Irvine, CA (PRWEB) April 12, 2013
Audible Rush, Inc., maker of industry leading full-featured stereo bicycle speaker music systems, exceeded shipment objectives for its first full year of operations ending December 31, 2012. "The Jam-Lite and Jam-Pac have shipped several hundred units over the past twelve months, surpassing our original business plan, and establishing Audible Rush as a recognized brand in the bicycle accessories market," said Marc Nussbaum, CEO. "Listening to your music out loud makes riding more fun, improves safety and enhances exercise effectiveness for all types of riders, including recreational, performance, long distance, and commuters."
The company's bestselling bicycle speaker systems are being offered with a discount of $20, making it simple to pick the perfect gift for friends and relatives who love to bicycle. This limited offer includes a special extended version of Audible Rush's exclusive 'unconditional fun guarantee'— if the gift recipient does not experience increased fun while bicycling with music, the bicycle speaker can be returned for a full refund up to July 15, 2013 with no questions asked.
This unique gift is available now through June 15, 2013 through the company's online store http://www.audiblerush.com. Orders should be placed early to ensure delivery by May 12th for Mother's Day and June 16th for Father's Day.
"It's easy for us to guarantee you'll have more fun bicycling when you add music," said Sherri Besser, Vice President Operations. "While riding a bicycle, music out loud is safer than using dangerous headphones. This makes the Jam-Pac or Jam-Lite an ideal gift for loved ones."
Jam-Pac is a complete music system inside a quick release, removable handlebar bag. The storage compartment is large enough to carry personal items such as a wallet, keys, light jacket, book, and more. Compatible with all MP3 players, iPods, iPhones, Android phones, and Blackberrys, smartphone users can stream Internet music, navigate with GPS, run fitness applications, and recharge their cell phone while riding. Jam-Pac is the only bicycle speaker system with a powerful 3,300 mAh, 10.8 volt rechargeable Lithium Ion battery and boosted digital amplifier, delivering near-automotive sound quality and volume on a bicycle.
For riders not needing the extra storage of a handlebar bag, the smaller Jam-Lite system integrates stereo speakers with an amplifier and a weather resistant padded zippered case protecting the cell phone or MP3 player. Jam-Lite features an external volume control and a quick release low profile mounting bracket. It is also the smallest and lightest bicycle speaker system on the market designed for the new larger iPhones and Android cell phones.
All Audible Rush products are eligible for a free extended 1 year warranty when registered at http://www.audiblerush.com.
Founded in 2009, Audible Rush delivers a safe, first class music experience to cyclists and other outdoor recreation enthusiasts.
See press and user reviews at http://www.audiblerush.com/reviews--
____________________________________________________
Audible Rush, Jam-Pac, Jam-Lite are registered trademarks of Audible Rush. iPhone, iPod are registered trademarks of Apple, Inc. Android is a registered trademark of Google, Inc. Blackberry is a registered trademark of Research in Motion.