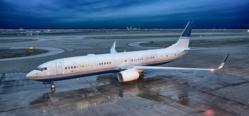 Leading Edge is truly synonymous with Corporate Quality with Airline Efficiency
Costa Mesa, California (PRWEB) April 16, 2013
Leading Edge Aviation Services (LEAS), long known as the largest commercial and military aircraft painting company in the world, is increasingly being recognized as a unique hybrid in the aircraft painting industry, boasting the highest levels of quality with streamlined efficiency on high volume aircraft fleets.
"Unlike our competitors, Leading Edge is well versed in numerous segments of aviation. We paint for the major commercial airlines including American, United and Delta, executive transport and military, corporate aircraft owners as well as the original equipment manufacturers such as Boeing," said Mike Manclark, CEO of Leading Edge Aviation Services. "Our experience in the high-end aspect of the market has allowed us to integrate skill sets and processes into the commercial aircraft painting arena while maintaining the most consistent on time performance metrics in the industry. Leading Edge is truly synonymous with Corporate Quality with Airline Efficiency."
Leading Edge was recently able to illustrate this reality in emphatic fashion. Earlier this year, Leading Edge secured a long-term contract with American Airlines to paint multiple aircraft model types in the new American livery. Contracted to strip and paint American's Boeing 777-300's in eleven days, Leading Edge exceeded expectations and delivered aircraft in both February and March with seven and nine day turn-arounds, well ahead of schedule while still maintaining the highest of quality. Likewise, in the Fort Worth, Texas facility, Leading Edge recently delivered a beautiful VVIP BBJ aircraft in a record seventeen days. Industry competitors often take four to six weeks for a comparable paint job.
"Aircraft painting companies tend to either have a high level of quality with long lead times, or short lead times with mediocre quality. Leading Edge continues to challenge these long accepted industry standards by delivering beautifully painted aircraft in record breaking time, exceeding our customers' expectations and our competitors' abilities," says Manclark.
About Leading Edge Aviation Services
Headquartered in Costa Mesa, California with state-of-the-art facilities nationwide, Leading Edge Aviation Services, Inc. is the largest, most advanced commercial and military aircraft painting company in the world. Founded in 1989, the company's undeniable success is attributed to its strong vision and a continuous commitment to quality and excellence. Today, Leading Edge delivers an extensive range of commercial services including aircraft interior and exterior painting, OEM production coatings application support, mod-center painting services support, VVIP aircraft interior completions and exterior paint, aviation graphics, aircraft weighing, long- and short-term aircraft storage, field audits, fleet assessments, interior deep cleaning, and aircraft exterior wash and polish. For more information, visit our web site at http://www.leadingedgecorp.com.