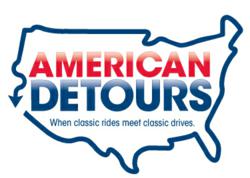 American Detours was inspired by our policyholders and the personal car stories they've been sharing with us for nearly 40 years. - Jill Bookman, CEO of American Collectors Insurance
Cherry Hill, NJ (PRWEB) April 23, 2013
American Detours, an exciting new web series pairing epic American roads with collector cars, has premiered on http://www.AmericanDetoursTV.com. The series is a tribute to great rides – beloved classic cars owned by American Collectors Insurance policyholders – that deserve to be driven on great roads.
At the heart of the show are the stories of collectors and how they came to connect with the classic car hobby. Each video also represents a collaboration between American Collectors and auto enthusiasts across the U.S. who voted on their favorite scenic routes via social media. The show underscores the growing popularity of the collector hobby, from classic restoration to the simple joy of exploring a winding road in a beloved classic. American Detours is not about the quickest route to take, but is more about enjoying the ride.
Each American Detours episode visits a location selected by voters, explored behind the wheel of a classic car insured by American Collectors. Jael de Pardo, best known as the host of popular SyFy Channel programming, gets behind the wheel in Season 1 with Hooniverse Executive Editor, Jeff Glucker and American Collectors Director of Automotive Education, Andy Trought. Season 1's routes wind through The Brandywine Valley in Pennsylvania; the Creole Nature Trail in Southwest Louisiana; and West Virginia's Monongahela Valley. Along the way, hosts talk classic cars, mingle with locals, and showcase the history of these areas with interviews from those who know them best. Each episode is dotted with unique personal stories that give viewers an insider's glance into life along each route and the people who call it home.
One such story comes from car owner and policyholder Dennis Morosin, whose 1963 ½ Galaxie is featured in the show's premiere episode. Dennis first fell in love with this exact Galaxie in 1993. Years went on and in 2004, his friend Walter (the car's owner) passed away. Walter's dad felt that "Wally" would have wanted Dennis to have the car, and the rest is history. Since then, Dennis has paid tribute to his good friend and the Galaxie by keeping the car in mint condition, participating in charity car shows, and enjoying the scenery via trips on sunny days.
The American Detours website offers an interactive experience for viewers and avid road trippers, housing all the Season 1 episodes plus photos from Season 1 pit stops, extra interviews with car and pit stop owners, Google Maps of each route, and a social element that encourages visitors to share their own road trips and cars. Each route map includes tips for pit stops along the way, featuring the same spots visited by Jael, Jeff, and Andy on the show.
"American Detours was inspired by our policyholders and the personal car stories they've been sharing with us for nearly 40 years," said Jill Bookman, CEO of American Collectors Insurance. "We want our policyholders to enjoy the cars they've put so much time and effort into restoring. Filming gave us a great opportunity to meet them, hear their stories, and see firsthand just how much they love their cars — and with the American Detours website, we can encourage others to drive the same routes by providing the tools and tips they need to replicate the trips. American Detours isn't about the best route from Point A to B, it's about the journey," concluded Jill.
The initial episodes are shareable and available at: http://www.AmericanDetoursTV.com and via YouTube.
The automotive "stars" of the first two episodes are a pair of classic Fords: a 1971 Mustang and 1963-½ Galaxie. American Detours hosts and crew explore the National Wildlife Refuge, browse at hidden roadside gem Lloyd's Country Store, indulge in some authentic Creole cuisine, and get a history lesson at a local Mardi Gras museum.
The Brandywine Valley and Southeast West Virginia episodes are set to roll out through spring.
For all the latest on American Detours, visit: https://www.Facebook.com/AmericanCollectors or http://www.AmericanDetoursTV.com.
About American Collectors Insurance
American Collectors Insurance is the nation's leading provider of collector-vehicle and collectibles insurance. American Collectors offers products through independent insurance agents, in partnership with several major insurance organizations, and direct to consumers. A wide range of collector vehicles qualify for American Collectors' program, from "brass and wood" antiques to street rods, exotics, modern classics, and more. American Collectors also offers all-risk coverage for a wide range of collections from stamps, coins and comic books to vintage wine, sports memorabilia and beyond.