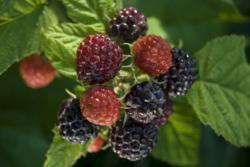 (PRWEB) April 12, 2013
Research on black raspberry's benefits continues to mount. While cancer prevention research has long pointed to freeze-dried black raspberries as a potentially effective disease fighting supplement, the berries came into the spotlight last year when daily freeze-dried black raspberry supplementation was recommended on the "The Dr. Oz Show" as a part of Dr. Lindsey Duncan's cancer prevention regimen.
Continuing research verifies earlier findings and shows that black raspberries contain one of the highest antioxidant activity levels of any berry, as well as the highest content of phenolics and anthocyanins of any Oregon caneberry. Ongoing research also suggests that black raspberries induce protective modulation of gene expression, which can help prevent and fight certain diseases.
Two articles recently published in "Nutrition and Cancer" confirm that freeze-dried black raspberry supplementation may assist the immune system in fighting disease. Researchers found that the anthocyanins in black raspberry were directly implicated in the berry's protective effect, assisting in tumor suppression. Black raspberry supplementation also led to positive changes in markers of apoptosis. In another study evaluating the impact of diet on tumors, researchers found that black raspberry supplementation may impede tumor formation.
Eclectic Institute, an Oregon-based dietary supplement company and pioneer in the herb industry, has offered freeze-dried black raspberry capsules to its customers since 2003 and began offering freeze-dried black raspberry as part of its whole food powder line last year. Eclectic added freeze-dried black raspberry capsules to its product line in response to the then emerging research that suggested black raspberry had great potential for significant health benefits. Only the freeze-dried form of the berry supplement is recommended because the freeze-drying process halts degradation and preserves the active constituents of the fresh berries.
About Eclectic Institute: Dr. Ed Alstat founded the Eclectic Institute in 1982 and was the first to utilize freeze-drying technology for the preservation of herbal supplements in the marketplace. Eclectic has a 90-acre certified organic farm in Sandy, OR, and it maintains its own freeze-drying facility for processing its fresh herbs, fruits and vegetables upon harvest. Eclectic Institute offers a full line of dietary supplements and herb-based topicals. Eclectic's fresh, freeze-dried black raspberry capsules and powder, can be found in health food stores or on the internet.