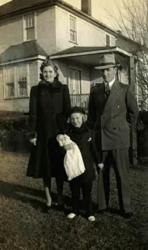 She loves recognition and reminds everyone that she's going to be 100 years old.
Ocean City, NJ (PRWEB) April 18, 2013
On April 16, 2013, Ethel Emens Garrison became part of an exclusive but growing group--people 100-years-old or more. Born Ethel Mae Gilliland, she lived in her family home in Spotswood, New Jersey, which consisted mostly of farmland. Her parents, George and Anna Jolly Gilliland had one more child, Hazel, 13 years later. George worked as a carpenter and Anna tended to the house and children.
The family lived in Spotswood for a long time, where the children attended the local public schools. Later, they moved to Jamesburg. After high school, Ethel enrolled in and graduated from the Hollywood Academy of Beauty Culture in nearby New Brunswick.
Ethel, twice widowed, married John L.S. Emens first. John and Ethel were married by Rev. William T. Morgan in Spotswood at St. Peter's Episcopal Church in the early 1930s. St. Peter's is one of the oldest parishes in the Diocese of New Jersey. While the parish was organized in 1756, Anglican services were conducted there prior to 1704. Ethel and John were married in the church building which was consecrated in 1854, not the original structure.
The newspaper announcement read, "A pretty church wedding was held at St. Peter's Episcopal Church here at noon New Year's Day when Miss Ethel Gilliland, younger daughter of Mr. and Mrs. George Gilliland of Brunswick Avenue, became the bride of John L.S. Emens, son of Mr. and Mrs. Frank W. Emens of Jamesburg…The bride wore a gown of white silk and a bridal veil caught up in cap fashion with orange blossoms and carried a bouquet of white roses and lilies-of-the-valley."
Following the wedding, a dinner and reception for the bridal party and immediate relatives was held at her parents' home. Upon their return from a honeymoon automobile trip south, they temporarily resided there. John supported them as a mason and carpenter in New Brunswick. They later established a home on Second Street in Moorestown.
During subsequent years, the couple added two daughters to their family, Mary Lou and Marion. Ethel was always a housewife until John became ill and remained homebound for many years, which prompted Ethel to seek a job. Ethel found a job as a nurse's aide at the Woodbine State Colony, where she remained for 11 years until she retired. The grounds contained a hospital and other buildings for treating developmentally disabled boys and men and male patients with tuberculosis and other communicable diseases.
Opened in 1921, the State Colony, Woodbine was more like a college campus than a mental institution. While currently known as the Woodbine Developmental Center, Woodbine was founded in 1891 as a haven for Eastern European Jews fleeing persecution. They established a settlement, cleared the forest, sub divided huge parcels of land, and erected thriving towns and farms. The community started the Baron DeHirsch Agricultural College in 1894, which later became the Woodbine Developmental Center.
The second time, Ethel married Hershel Garrison at the Corbin City Baptist Church in Corbin City, New Jersey on March 21, 1987. Herschel, who worked for the Heavy and General Laborers' Union, passed away in 2005. The couple had lived in Ocean City so Ethel moved into The Shores at Wesley Manor shortly thereafter.
Today, Ethel has one surviving daughter, six grandchildren, six great grandchildren and one great-great grandchild. According to her daughter Marion, "She loves recognition and reminds everyone that she's going to be 100 years old." Three birthday parties have been planned!