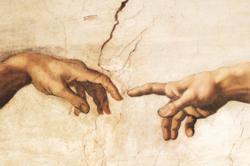 Most of Michelangelo's drawings were never intended for public display
New York, NY (PRWEB) April 11, 2013
Michelangelo's drawings offer a unique insight into how the artist worked and thought. They are beautiful artworks in their own right but also provide a crucial link between his work as a sculptor, painter and architect.
Michelangelo began drawing as boy and continued to refine and experiment with the medium — creating both preparatory sketches and finished artworks — until his death. Michelangelo's drawings serve as examples of translating the perception of touch to sight. In other words, his drawings convey to our sight not what we would see but what we would touch. His primary focus as an artist was the male body, and his drawings chart his relentless search to find poses that would most eloquently express the emotional and spiritual state of his subjects.
Most of Michelangelo's drawings were never intended for public display, and he often recycled letters and drawings (working on both the front and back of the sheet) throughout his career. In fact, he would have been appalled to see them exhibited as he hated showing them to outsiders. He destroyed a large number before he died, probably to prevent them from falling into other hands; he may also have wished to conceal the amount of preparation behind his major works.
This full version of Mighty Mack's Drawings: Michelangelo app features over 90 drawings by the great master Michelangelo.
Other Features Include:

Share images via email, Twitter and Facebook, and save them to camera roll with no watermarks.
Share the artist bio via email.
Select image favorites.
View the images one by one, or via a slideshow.
Enjoy this fantastic visual gallery, share the images with friends, and learn about the artist's life.
Updates include:

New user interface
Optimized for iOS 6.1.3
New Splash Page 
Requirements

iPad, iPod Touch and iPhone
Internet Connection to load and view content
Optimized for iOS6 retina displays and iPhone5
--
Mighty Mack is a leading publisher of distinguished digital products for the consumer and professional markets. The Company leverages newly available digital tools to create, design, and share new ways of consuming information and experiencing the world around us. The company has released a variety of best-of-class Apps, including Advertising Today, Morpheus Dreams, Where2Boss?, Agora Briefcase, Film Today, among many others.
To learn more about Mighty Mack please visit their website at http://www.mightymack.com or email them to press(at)mightymack(dot)com.