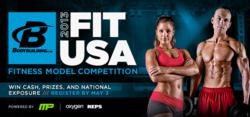 Since I won the Fit USA contest, Bodybuilding.com has been so helpful and supportive and they genuinely care about my success in the fitness industry. -Elizabeth Brown 2012 Fit USA winner
Boise, ID (PRWEB) April 10, 2013
Bodybuilding.com, the Internet's most-visited bodybuilding and fitness site and largest online retailer of nutritional supplements, and MusclePharm, a leading nutritional supplement company, are scouting for America's top fitness models. One male and one female winner will win an all expense paid trip to the Robert Kennedy home office in Canada. Once there winners will partake in a photo shoot and be featured in either Oxygen or Reps magazine. Winners will also participate in a Bodybuilding.com photo shoot, receive a year supply of MusclePharm supplements and take home $500 in cold hard cash. There are additional prizes for 2nd and 3rd place winners. Plus, all 20 finalists will receive a custom Bodybuilding.com gym bag full of MusclePharm supplements and other great give-aways.
Contestants have until May 3, 2013 to register for this once in a lifetime event. The top 20 finalist will be chosen by an internal judging panel and go on to compete in Boise, Idaho on June 8, 2013 at the Century Link Arena as part of the Bodybuilding.com Fitness Expo Weekend. During the live stage event, a panel of fitness celebrities will be looking for those who display balance and shape, overall muscle tone, stage presence, and a marketable "fitness model" look.
For more information on the 2013 Bodybuilding.com FIT USA Competition Powered by MusclePharm, please go to http://www.Bodybuilding.com/FITUSA.
Bodybuilding.com offers more than 9,900 health & fitness supplements and accessories to help more than 19.5 million people every month achieve their health, fitness and appearance goals, as well as over 28,000 pages of free information, including more than 20,000 articles and 8,000 videos, expert online trainers, and new content added daily.