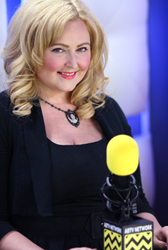 Adam Levine opened his heart to what I was doing, and that meant everything.
(PRWEB) April 10, 2013
The Voice's season 2 contestant, Katrina Parker made an appearance on AfterBuzz TV's The Voice aftershow Monday night. In her appearance, Parker talks about her former coach, Adam Levine, Shakira as a new judge and how Kickstarter helped her fund her new album.
On Shakira as a judge:
Parker says, "[Shakira] is so well spoken and clearly very smart and savvy - I don't know how that's gonna translate into coaching till I see it - but so far she's won me over."
On Adam Levine as a coach:
Parker says, "[Adam Levine] opened his heart to what I was doing, and that meant everything."
Katrina on Her New Kickstarter Funded Album:
Parker says, "I actually am about to do an album, I'm working on something now that's fan funded. I did it through Kickstarter, we exceeded our goal and so something should be out probably in August."
Katrina on Reality Television Fans:
Parker says, "With reality shows it's really hard to tell if you have fans that are in it for the long run, or if you just have people that kind of love the show and then when the show's over and you're not on their TV anymore they kind of just drift away. I think I did have some of that, but I also had some really strong fans."
On Her Biggest Influence for Her Upcoming Album:
Parker says, "I mean musically, I think it's always going to be Billie Holiday, you probably won't hear it when you listen to the record cause it's a lot sassier than a lot of her music. As a singer she just influences me so much and she still does and a lot of it is a little more raw than you would expect, less smooth maybe than some of the stuff I've done on the show.'
On her celeb buzz blogging endeavors:
Parker says, "I love to talk, I love to tweet, I love to Facebook but I didn't know if I'd be good at anything more than 140 characters so [the blog] is new to me but so far so good."
Links to Katrina Parker's full appearance can be found on YouTube and iTunes:
YouTube: http://www.youtube.com/watch?v=CIvic2pMDgo&list=PLF4F145957658B37E&index=1
iTunes: https://itunes.apple.com/us/podcast/voice-afterbuzz-tv-aftershow/id434703649?mt=2&uo=4
AfterBuzz TV's The Voice aftershow, hosted by Jason Ikeler, Josh Tariff, Chloe West and Michelle Macedo, airs live Monday nights at 10pm Pacific and is available for download the next day on iTunes and YouTube. The Voice aftershow is a weekly wrap up show that broadcasts worldwide from Los Angeles, CA as part of Extra's Maria Menounos and filmmaker Keven Undergaro's online broadcast network, AfterBuzz TV. AfterBuzz is dedicated to producing daily post-game wrap-up shows for fans' favorite TV shows, covering shows like Dancing With The Stars, American Idol, Once Upon A Time, House of Cards and countless others. Currently, AfterBuzz TV receives over 20 million weekly downloads on iTunes from over 75 countries. For further information about the network, visit afterbuzztv.com.