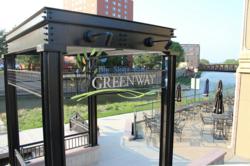 Congratulations to the entire Downtown River Greenway team!
Sioux Falls, South Dakota (PRWEB) April 15, 2013
Phase One of the Downtown River Greenway, completed in June 2012, was recently awarded the 2012 South Dakota Ready Mix Concrete Association "Excellent in Ready Mixed Concrete Parking Lots, Recreational Trails & Driveways" Award. The Excellence in Concrete Awards recognizes outstanding projects from throughout the state. Entries are judged on architectural design, engineering and construction challenges, complexity and uniqueness of the project, workmanship, finished impression, and diverse application of ready mixed concrete.
This project was also awarded the "2012 Outstanding Engineering Achievement Award" from the Eastern Chapter of the South Dakota Engineering Society. The project team included Brad Ludens and Josh VandenBos, City of Sioux Falls; Tory Miedema, City of Sioux Falls Parks Department; Associated Consulting Engineers; Structural Engineering Associates; Goldsmith Heck Engineers; Ehrhart Griffin Associates; Wright Water Engineers; and Confluence.
Confluence was selected by the City of Sioux Falls, South Dakota to update the city's Greenway & Riverfront Master Plan and prepare a feasibility study for a portion of the River Greenway located within downtown Sioux Falls. The purpose of this project is to improve greenway access for recreational opportunities, serving as a catalyst for private redevelopment adjacent to the greenway. Confluence worked with public and private stakeholders, including representatives of three major redevelopment projects, to identify issues and build consensus. Confluence also facilitated an extensive permitting process to assure the project would not have a negative flood impact on property in the area.
Upon acceptance of the refined master plan, Confluence was retained to begin Phase One design implementation. This phase of the Downtown River Greenway project creates an urban river walk on the east bank. A small gathering space is the focal point of the project and consists of an arc shaped stone wall projecting into the river. An amphitheater for small events is flanked on both sides by a stepped river edge which provides an informal sitting area and encourages access to the water. Interpretive light piers create night interest and include panels to educate visitors about the history of downtown and the river.
A new 200-foot single span pedestrian bridge replaced an old railroad bridge that impeded river flow during flood events. This new bridge completes a pathway from the emerging East Bank shopping district to Falls Park West and also serves as a bypass trail for use during large events. Access to the bike trail was improved through two new ADA compliant ramps and two new stairways. In response to requests made during the community involvement process, a canoe and kayak landing was incorporated to serve the large number of boaters in the area.
The history of Sioux Falls revolves around the cascades of the Big Sioux River which exposed underlying Sioux quartzite, a hard pinkish-colored stone. Local quartzite stone is an important element to relate to the historic downtown context while also complementing the natural stone outcroppings visible on the site. This material was used to construct the center amphitheater and is incorporated as an accent throughout the project.
Confluence is now involved in the second phase of the River Greenway project which includes river walls, improved greenway access, seating, a widened trail, and landscaping and irrigation improvements. This project will also incorporate a stepped river edge similar to Phase One and a water feature. Construction is underway with a tentative completion of June 2013.
For more information about this project, please contact Jon Jacobson at jjacobson(at)thinkconfluence(dot)com.